Music majors run into a "rock-y" start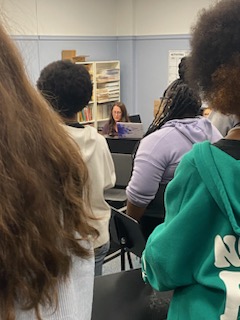 With the new school year, many students are excited to start fresh by fixing the problems they struggled with in 2021. But music majors, in particular, are coming face to face with a challenge they'd never have predicted–Ms. Frank has contracted a rare condition named Mal de Debarquement Syndrome.
"It is a neurological condition that makes the body feel a phantom sense of motion all the time," says Ms. Frank
"So, while I am still, my body feels like it is in constant movement and my brain is sending messages to all parts of my body to compensate."
Essentially, Ms.Frank is constantly in a state of uncontrollable rocking. This has caused some complications in the music department due to Ms. Frank's high level of involvement.
"With Ms. Frank being absent from school due to her condition, the process of us learning our music has been a little bit slower than usual," says Angelina Jackson, a vocal music major.
Karla Vergara, another vocal music major, felt similarly.
Vergara said, "Ms. Frank helps with students who need help with their notes but if there isn't anyone to help then the student could have trouble learning their parts."
However, Yerancy Acevedo, a musical theater major, had different thoughts about this new adjustment.
"At first I was worried because her being out meant less time to go over things, but Mr. Sharp and the other teacher [Ms. Jaclyn] have been very accommodating to her and have been very helpful for the class, so things get done pretty fast."
Ms. Frank's condition gets further exacerbated by bright lights and loud sounds. But, despite MdDS, the dates for musicals, cover band gigs, and choir recitals aren't wavering because students have stepped up to take on the challenge.
Mr. Sharp, the instrumental music director said, "I've come in and I've seen students all in practice rooms down this hallway all working on their parts… I've seen certain students step up and warm up students and take leadership and share the information that's on Google classroom so that everybody knows what they should be working on."
Many people see this condition as an opportunity to grow.
"I think we have gained a sort of independence in ourselves rather than relying on Ms. Frank and Mr. Sharp to be with us every step of the way since that's unrealistic outside of school, also we will learn to be self-prepared since a lot of things are based on what we can bring and imagine, so yeah just free will," says Yerancy.
Angelina also like the idea of independence, "[The music majors] will gain the ability to learn the music by themselves by listening to the music and following along to figure out their parts."
Karla added, "The skills I think what all music majors will gain due to these changes will be patience…I believe patience is a skill that's most needed in order to push through."
Mr. Sharp also mentioned, "I think we've proved that especially this class more than any class [has] resiliency because everyone that's part of this class has been through virtual schooling every single person has been through last year, right?"
Ms. Frank hopes that this unexpected challenge will help the students gain skills needed for the outside world.
"I hope they will gain some independence, note-reading skills, musicianship skills. I hope that they will start to find problem-solving skills."
Ms. Frank also hopes the students will gain an important skill known as grit.
"It's the idea that a student, even when they falter or make a mistake, views the mistake as an opportunity to learn and gain new knowledge and new skills." Ms. Frank says
"And so my hope is that students do make mistakes. And then, inherent in that leadership role, is the ability to learn from those mistakes and become better and more ready for life out in the real world where there is no person telling you what to do all the time, right? [You] just have yourself."
Kimberly Carroll, another music major, gave us advice on what she thinks they should do to succeed.
"What I think the music majors should do to succeed is to not treat Ms. Frank differently just because of the condition, but if she can't do certain things, cut her some slack, and to overall just be accountable with yourself."
Though Ms. Frank's condition caught many off guard, the perseverance and leadership her students have shown have also proved to be a surprise.
Despite the uncertainty of the future of this school year, Ms. Frank has shown a great deal of gratitude for the flexibility of her pupils.
"One avid gratitude to the students for their understanding, compassion, and empathy. It really does mean a lot. This is probably the most difficult thing I've ever had to deal with in my life. And knowing that the students are trying to find ways to support me and maintain and improve and build upon their learning… It tells me that I've done something right. And that… I should count myself as one very lucky person to be here and amongst such a supportive group of people."