Safety on the way to school
Philadelphia's violence imposes threat on student safety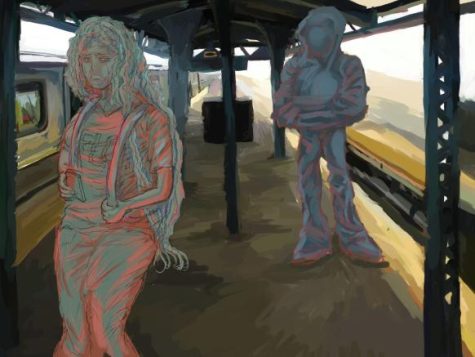 Philadelphia is ranked 7th in the "Most Dangerous Cities to Live In" list, with moderately increasing rates of homicide, assault, and other crimes. While gun violence on a decline in the city, student safety to and from school is a concern all families have when their children are going to school no matter how old they are. Students from kindergarten through college are impacted by these safety concerns. With over 200 mass shootings in the US so far this year according to the National Gun Violence Archive we all have to think of safety both in and outside the classroom. How unsafe is it to get to and from school? How has the violence faced by students affected the school environment? These are all questions families ask almost every day and are trying to find solutions for.
Depending on which part of Philadelphia you live in and your mode of transportation, going to school could feel like a cakewalk or a suicide mission. Philadelphia's most dangerous areas include North, Northeast, and West Philadelphia. Because Franklin Learning Center is in North Philadelphia, coming to school can feel like a very dangerous task for students.
In terms of police officers, there aren't enough of them on the subway to stop the violence that could happen but having more police officers wouldn't necessarily ensure a safer environment. Those suffering from addiction and displaced riders often disrupt students on their way to and from school causing an unsafe and unpleasant commute.
Adults can carry all sorts of weapons whether walking or riding on SEPTA to protect themselves. But there's no telling when a mode of defense can become a mode of offense. The school has an amnesty box that allows you to drop off your weapons before passing through the metal detectors but this too can deter students because it can often feel like a trap.
As of the date of publishing, there have been 125 homicides. This number quickly escalated in recent months so it's likely the number has been changed already. Despite this large number, this is still an 11% decrease from the year 2022. Students at FLC have had to deal with this reality for a while but when they are forced to commute to school, especially in the winter and fall when it gets dark by 5 p.m., this reality gets more terrifying.
Philadelphia has become quite infamous for its poor communities, shootings, muggings, homelessness, and so much more. It is reported that most occasional crime centers around the Northern or Western areas of Philly, Franklin Learning Center being a part of that area. We've already faced difficulties with violence near or in FLC last year, specifically where an incident occurred between two students who were caught up in an altercation and a firearm was set off right after dismissal. A day after this incident, students were able to access resources to aid students who were shaken up by the occurrence.
The School District of Philadelphia provides multiple sources to reach out to for students, but what happens when they don't reach out? It's been recorded by Valerie McGaha-Garnett, an assistant professor of Applied Health and Psychology, who recorded that children who endure community violence have a harder time focusing, socializing, and responding effectively to emotions, lower academic performance, and distress towards abuse.
Almost half of FLC's enrollment is Black. 30.8% of those under Philly's poverty line are Black according to The Pew Charitable Trusts. In these more impoverished environments, violence is more likely to occur where the poverty rate is 2/5, and the violent crime rate also triples. When the data shows how much more prone children are to witnessing violence, we begin to see a trend in behavior, and how it begins to affect the atmosphere. Even if they aren't in these vulnerable environments, the children of today are already a google search away from world tragedy all around Philadelphia, exposed to the terrible everyday events that happen around them. It's important to focus on students' mental health and open discussions on combating community violence.
How does traveling through unsafe areas affect students' mental health? First, we have to look at the mental state of students before putting unsafe travel into the mix. According to the CDC's Youth Risk Behavior Surveillance Data Summary & Trends Report, "In 2021, more than 4 in 10 (42%) students felt persistently sad or hopeless and nearly one-third (29%) experienced poor mental health." This is saying that a large percentage of students are already experiencing depression and other mental health issues. The constant fear for their safety while trying to get to and from school every day can play a large contribution to these statistics.
While it may be true that Philadelphia can be unsafe and dangerous some may argue that not all parts are unsafe. For example, it is stated in a 6abc news article by John Paul that "much of the increase in crime happened outside of Center City in the recent years." So yes Philadelphia has areas that are safer than others but the good does not outweigh the bad. Most children don't have to commute through that area, therefore the safety of Center City may not be much of a concern to them. Those who don't travel through this area, usually pass through some of the more dangerous areas such as north, south, and west Philadelphia, because of this students have to be more cautious when on their way to school.
How do we fix this? Students are able to use SEPTA through their student fare cards from 5:30 a.m. – 8:00 p.m., giving them access to anywhere the buses, trolleys, and subway systems can take them. This means they could potentially be exposed to or involved in violent acts on their way to and from school. SEPTA should be responsible for providing training and certifications for their transit police in SEPTA-owned and operated spaces such as trolley and train stations, transportation centers, and bus loops to ensure student safety.
SEPTA has only 260 officers working in the 2,200 sq. miles that SEPTA serves in three patrol districts, that is enough officers to have on vehicles and facilities at all times.
Families can set up a safety plan for their children if they are in a dangerous situation while traveling alone such as coming up with a "safe word" or safety code, or a runaway plan to a safe location where a family member can be called.
The School District of Philadelphia spends nearly $1 million on student safety in schools, however none towards outside safety. Within this $1 million, the school district could work alongside SEPTA and create job positions where, in student high-traffic areas such as the El and Broad Street Line, there are people similar to climate support workers, ensuring student safety.
Our city's long-winded history of violence has an impact on students' mental health and physical safety. The shootings, those suffering from addiction on and off of public transportation, and the inability to protect themselves (because weapons aren't allowed on school campuses) all add up.
With the city, school district and SEPTA taking little-to-no action to ensure student safety, families are left to pick up the slack. The city of Philadelphia needs to do more in favor of its students and their safety.