Author: Jessica Munz
Fall, Winter, Spring, and summer are all parts of the seasons. We've always heard about the seasons changing but why do they actually change?
"The seasons are basically the change of weather patterns and daylight hours over the course of the year." Said FLC biology teacher, Scott Stein. "It changes gradually over the year, however, we mark four specific points during the year where it changes to the next season."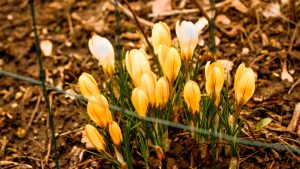 Some assume that the seasons change just because of 'Mother Nature'. Nasa says the earth has seasons because the axis is tilted. Dominick Gode, a Freshman, thinks the season's change because "the sun stays in one spot while the earth rotates." He also added that, "the one spot of the earth that is closest to the sun is the one that's the warmest, and the other spot that's farthest from the sun is the coldest." Since the earth rotates on its axis, or tilts, Dominick's assumptions are correct.
But then why are some months summer months, and others winter months?
Nasa Science says, Sometimes it is the North Pole that begins to tilt towards the sun around June, and sometimes the South Pole tilts away from the sun around December. June, July, and August are known as summer months because in June (in the Northern Hemisphere) the sun's rays hit that part of Earth more directly than at any other time of the year. December, January, and February are winter months because in December (in the Northern Hemisphere) the South Pole's begin to tilt away from the sun, causing colder weather.We live in the Northern Hemisphere ,where it's warm in July and cold in December, but if we lived in the Southern Hemisphere, in places such as South Africa and Australia then the weathers would be reversed!
We are now starting to experience the feeling of spring.
Spring is often called the season of rebirth, due to all plant life beginning to blossom once again. During spring is when the Earth's axis begins to tilt towards the sun, causing warmer temperatures. The name 'Spring' was first introduced around the 14th century. Before then spring was known as 'springing time' or 'springtime'. Recently we changed our clocks forward and lost an hour of sleep, but in exchange we also get extra hours of daylight. Because of the extra hours of daylight, our Boys Volleyball team can now enjoy the start of their season. Others can also look forward to picnics, playing outside, and celebrating Holi, Earth Day, and countless of other springtime activities and holidays