Teacher shortage
What does a shortage of teachers mean for FLC?
Ever since the start of the 2021-2022 school year, Franklin Learning Center has seen an increase in teacher shortages. An increase in teacher shortages would disrupt how teachers plan their lessons and prevent students from learning efficiently.
Like in many urban school districts this year, teacher shortages are a common occurrence in the School District of Philadelphia. A survey conducted by Frontline Education found that 75% of urban school districts in cities are experiencing teacher shortages.
"There are teachers who are out because they take time off," FLC principal Nicole Lee said. "So, in all actuality, I have one teacher on sabbatical for Mathematics, and another teacher out sick currently. And then, on average, I will say we are averaging over five or six [teachers calling out] a day."
With the school year having a rough start, students at FLC have seen different teachers coming in to cover for their classes. These coverages, in turn, prevent students from learning the necessary topics needed for them to pass their classes, and it can affect Juniors and Seniors a lot.
Among Juniors and Seniors, some of them are taking Advanced Placement (AP) classes. With the necessary teachers not there to teach them, they will not prepare themselves properly for the upcoming AP exams near the end of the school year.
"One of my classes, AP Gov, the teacher, she wasn't in there," Damein Williams, a senior at FLC, said. "[So for] a full month, we didn't have a teacher, so we just have a substitute, we'll be on the phone, we'll study for a different class."
When teachers have an unexpected absence, they may not have any lessons prepared for their students, sometimes leaving them nothing to learn during the duration of their absence.
"I was out unexpectedly and so I didn't have emergency lesson plans, unfortunately," FLC teacher Kyle Burns said. "So, whatever stands, students did nothing while I was gone. When I got back, we just kind of started fresh."
Due to these teacher absences, other teachers have to cover for them during their preparation and/or duty periods. When teachers this time to cover other classes, they fall behind on various other tasks they have to do, like planning and grading. When teachers fall behind on grades, it adds additional stress to the students and teachers, especially if they are near the end of a quarter.
"I know I would be disheartened at some level if I come to school and I'm missing like three and four of my teachers," Lee said. "That gets a little bit disheartening, I'm looking at grades and they're not looking too spiffy right now."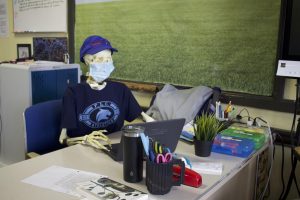 Teachers play a huge role in the education of students, building good connections with the students, and helping them with their academic goals.
According to the University of the People, "they hold students accountable for their successes and failures, and good teachers won't let their talented students get away with not living up to their full potential."
With teachers who have little relationships with the students, it becomes difficult for both parties to figure out what the teacher and the student need to achieve their goals.
"They know our strengths, and our weaknesses, so they're able to adapt to what we can and cannot learn," Williams said. "So, for us not to have teachers in the building that do understand our strengths and weaknesses, it's just dire, I think that's something that is just needed for us to learn."
There is no denying that teachers play a part in helping students succeed. With teacher shortages being a prevalent issue at FLC, the success of students will be in vain.
"I do wish I had other teachers that I can also support, and they can support me," Williams said.