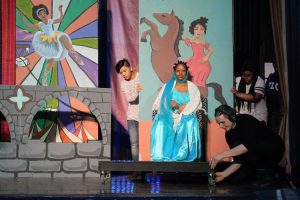 Author: Franchesca Carrera
Since the beginning of the year, the Musical Theater department has been preparing for this year's musical, Pippin, a tale of a young prince who longs to find passion and adventure in his life. With the stage adorned with colorful painted pieces, circus themed dances, and medieval jester-esque costumes, this musical will differ from the past performances like Little Shop of Horrors and DreamGirls.
After a brief break of a few years, the spring musical returned to Franklin Learning Center in 2016. Since then, the event has featured the joined forces of musical theater, art, stage crew, and dance students.
The three teachers behind this production are FLC's very own Vocal Music Director Michelle Frank, Dance Instructor Dana Williams, and Instrumental Music Instructor Colin Sharp. With their guidance, many students are also working hard to produce an extravagant production, with over 100 students participating.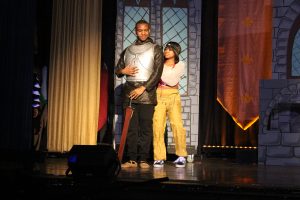 Sophomore Alexandra Rodriguez will be acting and singing in her first musical. "I really enjoy it," she said. "I get to hang out with my friends and work on my acting and musical skills." In order to become a part of the Musical Theater class, Vocal majors must audition. In the audition, they recite a monologue and sing any song they like, as long as it is featured in a musical.
But before everyone gets to watch the Musical Theater students perform, they must practice. One of the hardest and most tedious parts of being in a musical is learning lines.
"Remembering all my lines was a little tricky at first," Rodriguez stated, but she slowly got the hang of it. "Whenever we went off book, Mrs. Frank had to shout out our lines, maybe every couple of minutes."
Although they had a bit of trouble, they always found ways to practice and improve by "acting out our scenes when we weren't in class. Like doing it out of school and with family members."
Another member of the production is Cristo Garcia, who is also experiencing for the first time the hard work that goes into a musical. He decided to join as a member of the stage crew to help decrease any possibility of error during the opening night.
"Stage crew is in charge of how the set looks and works," he said. They often change the main stages on the set, due to scenes having different settings. He also added that they "make sure that everything, such as costumes, props, and sound equipment, is in place so that nothing is off."
Pippin will be debuting Thursday, April 19th and will run through Sunday, April 22nd.