National Walkout on the 19th Anniversary of the Columbine Massacre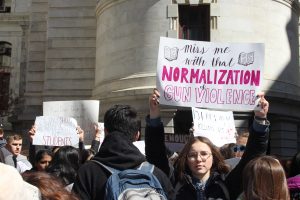 After the success of their first walkout in protest to gun violence on March 15, 2018, students from schools all over Philadelphia took to City Hall once again, to show that they are not finished fighting for their safety.
These students put their differences aside to meet up at City Hall at 10:15 AM and begin their march, this time focusing on another important school shooting. On April 20, 1999, the first mass school shooting took place in Columbine High School in Littleton, Colorado. Twelve students were killed and 21 were injured. After similar events occurred in Marjory Stoneman Douglas High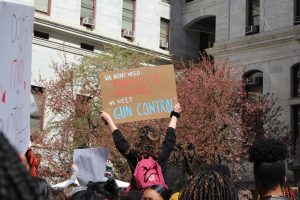 School, students began to protest gun laws and are now honoring the lives that were taken at Columbine while focusing on their task.
Kyron Young, a student from Franklin Learning Center, believes that gun laws should change because "People are trying to solely blame this on guns, or solely blame it on mental health issues." "If people were tested for mental issues before they are able to actually buy a gun, then it wouldn't be such an issue." He was accompanied by over 100 students from FLC, all marching together.
Once the students arrived at City Hall they were welcomed by crowds of students from other schools around Philadelphia.
Students from Cheltenham High School to Temple University were present, holding up signs, marching in unison, and chanting 
"See Our Faces, Hear Our Voices".
Sarah Beck, a student at Germantown Friends School, feels that there's no certain way to tell if the protests are working or not. "We are definitely grabbing the attention of others and bringing into our point of view," she said while holding up her sign that read "Actually, Guns Do Kill People."
After members of the Cheltenham High School Poetry Club read out their sentimental pieces, the organizers of the protest announced that they would be moving to Eakins Oval and were followed by those in the crowds.
As they continued to march they held their signs above their heads and continued to chant "See Our Faces, Hear Our Voices."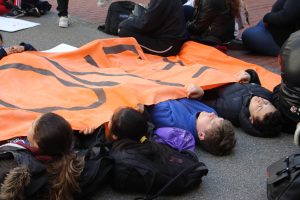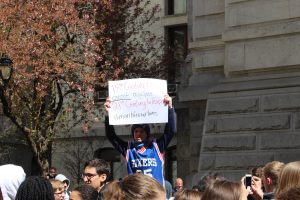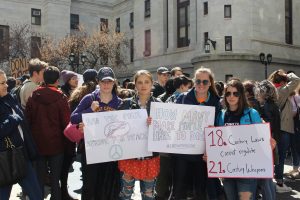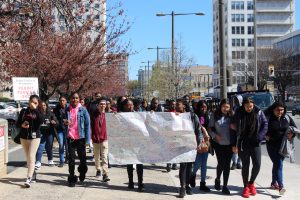 Students from all over the city of Philadelphia march to City Hall where they protest gun violence.