FLC students walk out to join national climate strike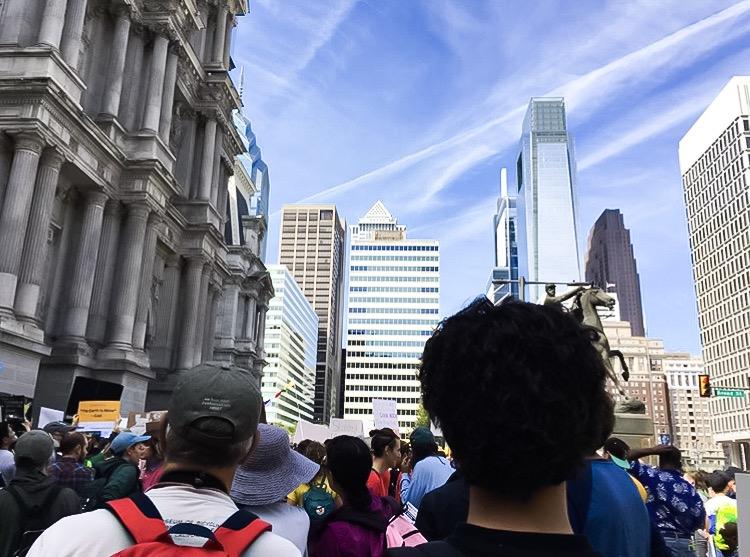 Approximately half of the student body at Franklin Learning Center High School walked out of their classes at 11AM on September 20th, joining a worldwide protest against climate change. Those who participated in the climate strike marched past Spring Garden Station and came together with thousands of students from around the city for a rally at City Hall.
"We want our voices to be heard," said Justine Chan, an FLC junior who participated in the walk out. She continues by saying the climate has an "effect on our world and will affect us soon."
The strike at City Hall was organized by Earth Quaker Action Team (EQAT), along with several other groups, to demand that those in power will fight for change. Philadelphia was just one of more than 4,000 strikes planned in 139 countries according to the Cable News Network (CNN).
EQAT board member Eileen Flanagan said, "I think school walkouts are brilliant because they show how people from all around the environment come together to protest climate change."
Monae Carpenter, a junior at Dobbins High School also participated in the rally at City Hall.
"I think school walkouts are interesting and informative," she said. "They express how people want change in their environment and lives."
Philadelphia students who walked out did so despite consequences from the school district. They were assigned a class cut for each period they missed.
According to FLC Assistant Principal Anthony Wilson, "The School District of Philadelphia told our school and all the other schools that the climate change walk was not an accepted excused absence from school."
Wilson disagrees with the school district's decision, though, and says it would have made more sense for students who walked out to be marked excused.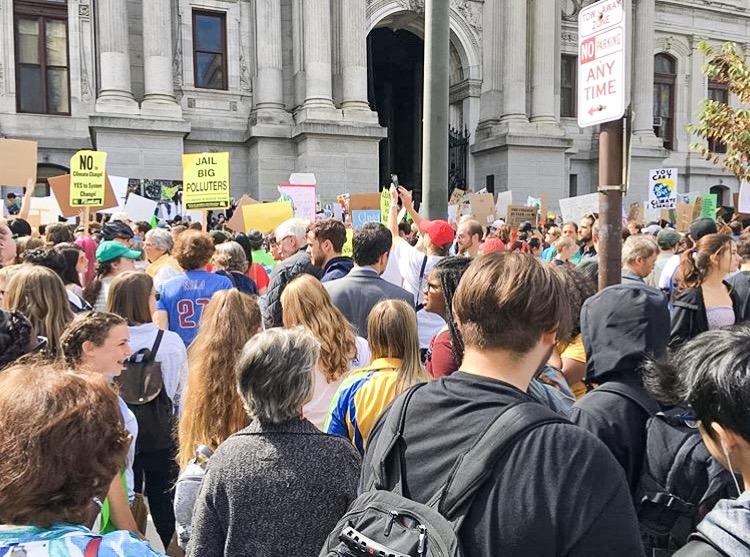 "I wish they would have, [but] they didn't," he said. Despite the consequences. He then estimates that "well over half of our students left the building that day".
Whether or not those students who walked out actually went to protest is up for debate.
Doree Kendricks, an African American History teacher at FLC, explained, "Some students, unfortunately, just want to ride the bandwagon and take that opportunity to leave. But they're not really protesting."
However, students like Phedora Jean-Phillipe, an FLC senior, didn't leave school at all. She is one of the many who thought the walkout wasn't going to do anything impactful.
"This matter is out of our hands," she said. "I feel like no matter how much we protest, it won't really do anything, because there are big companies that are profiting off of putting all this stuff into the air, and I don't think they're going to stop."
Noel Rodriguez, an FLC junior, didn't walk out either.
"It's more important to be in class," he said. "I would have just gone home."
Hemant Mishra, an Algebra and Calculus teacher at FLC, is "not in favor of people going home". Even so, he agrees that the issue is important: "Climate change is worth walking out for—people really need to think about it."
Wilson concluded by addressing those who walked out and took their unexcused absence, "Students who are the future of our country in the world sometimes have a better grasp on what needs to be done for their future than we do."