If you're taking a music class this year, you've probably seen the name Ms. Schepers on your roster and wondered who that was. No need to feel puzzled! This article will explain the mysterious and elusive Ms. Schepers. 
Melissa Schepers is the new head of the vocal music department after the unexpected, but much-deserved, retirement of Ms. Frank. She will be taking over Musical Theater, Intro to Music, and Choir. She was originally born in New York, but has lived in Philadelphia for seven years.
She has an extensive knowledge of all things pertaining to music as a result of her degree.
"I went to Temple University and I studied music education with a vocal concentration," she explained.
As a music teacher, she's most suited to teach music at FLC because she can relate to students due to her youth. This is evident through the music she listens to. 
"My favorite genre is probably pop. I listened to lots of singer-songwriters. [I] already listened to Olivia Rodrigo's album that came out today, on the day this is being recorded. But I also love R&B and this summer I listened to a lot of Motown."
Ms. Schepers's upbeat personality makes her a perfect match for the students at FLC.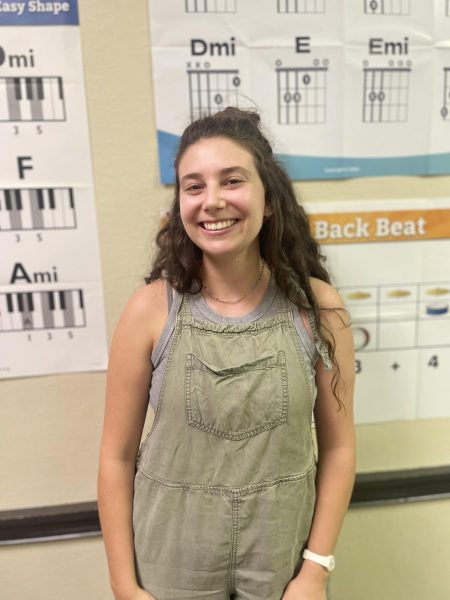 "I think that I work really well with high schoolers. I just jive very well with them. I'm also just like a really ridiculous person and funny and just like very outgoing, which I think is totally needed in high school sometimes to get kids out of their shells or awake, and enthusiastic about things," she stated.
It's widely known that enthusiasm is well-needed when it comes to education, so Ms. Schepers's introduction will be a breath of fresh air. 
Outside of school, Ms. Schepers is quite a Renaissance woman. 
"I obviously love to play music outside of school, I really love to cook, I love to travel, and I love to participate in story slams," she said.
Aside from her personality, her extensive experience makes Ms. Schepers a great addition to the music department. 
"I went to college for music and I'm a pretty skilled musician…I play in a few different bands and I write my own music and write my own songs. And I also give piano lessons outside of school…So I look forward to working with all the music students and showing them what I know," she commented.
Ms. Schepers continued to explain her excitement for teaching at FLC.
"I feel pretty nervous. But I'm also really excited…I've always wanted to teach high school so I'm really happy to now get the opportunity to do that at FLC," she confessed.
Despite her very brief time here, Ms. Schepers has already planned and implemented a series of different activities and events. 
"Well, we just started doing performance Fridays, where students can showcase the music that they're working on or just any personal endeavors of music for each other. We have the cabaret in November and we have the winter concert in December. We are going to Temple [University] in November to sing at a local music festival there..and we're working with Voces 8 [an acapella group], " she mentioned.
And it's not just activities that she's been planning. She and Mr. Sharp are also planning to expand the music department as much as possible.
"I would love to grow the music music department, as I know Mr. Sharp would love to as well and get more students in FLC for music. There's a really great foundation here. So I'd love to get more students involved and just get us out in the city and performing for each other and for other people outside of that school," she said.
Ms. Schepers has worked very hard for this position and her appointment has been met with much warmth. Ms. Schepers ended the interview by explaining her expectations for the school year.
"I definitely expected to see a lot of excited musicians and that's totally what I have seen. The community that exists like in the choir program specifically was really awesome. And [that's] the reason that I love choir so much, so I'm happy to see that that is thriving here."