Sweet N Spicy Buffalo Wings
Buffalo wings are tasty delicious pieces of chicken wings that are typically breaded and fried and then coated in a combination of flavors. Some common ones Americans love today include hot, mild, and BBQ flavored wings. Buffalo wings originated from NYC and were created by Teressa Bellissimo in 1964. Legend has it that a group of her son's friends entered their family owned restaurant called Anchor Bar where Bellissimo made them chicken wings for the first time. At the time chicken wings were only used to make chicken stock for soups. Bellissimo finished her creation by covering the wings in her signature spicy sauce.
Bellissimo's wings became an instant success, the more modern take on it is that the wings are typically fried. In this article we have what can only be described as the perfect matching of sweet and spicy.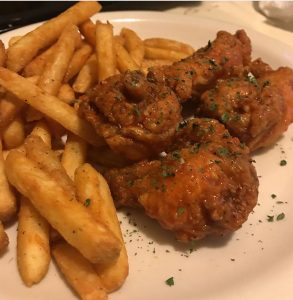 Sweet Heat Buffalo Wings
Whole chicken wings or wing dings

Franks Hot Sauce

Honey

Salt

Pepper

Oregano 

Garlic powder

1 cup of flour
Step 1: Prepare your wings
If you're using whole wings cut the wings in half and remove the part that has all the bones in it (because no one likes that). You should now have a mini drumstick and a flat. Season wings with salt, pepper, oregano, and garlic powder. Prepare a seasoned flour by adding one cup of flour and a teaspoon of each seasoning (for extra heat at ½ tsp of cayenne pepper.)
Step 2: Preheat Oil
Before you fry the wings heat the oil (in either a deep fryer or large pot) to 375 F
Step 3: Bread the wings and fry
After seasoning the wings, cover the wings in flour shaking off excess. Now add the wings to preheated oil frying in batches wings will cook in 8-9 minutes