Tiktok and its impact on school life
TikTok is a social media platform used by millions around the world, including students at FLC. Students can be seen doing TikTok dances in the hallways and stairways as well as scrolling through the app in and out of class. TikTok has been gaining attention over the weeks for two reasons, the potential risk of personal data being collected by the Chinese government informed by the FBI director, and a negative impact it has on teens by scrolling through TikTok according to a psychologist.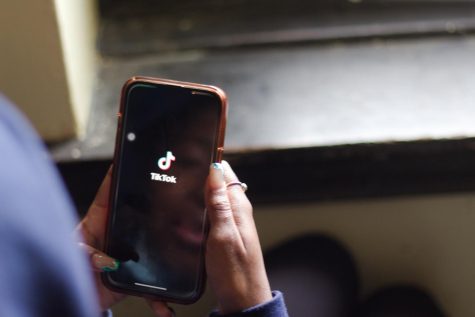 TikTok is owned by a parent company called ByteDance, and although the Chinese government doesn't own the company directly, it may influence China's operation.
Chris Wray, the FBI director, has expressed concern regarding China's ability to control the algorithm, stating that it allows China to manipulate the content to push their operation and also collect data for espionage relations.
Jeremiah Cornish, a sophmore in FLC, and a TikTok user, was asked about the situation regarding the warning.
"Most countries want to collect data on other people in their country and also countries around the world", Cornish says.
Another student at FLC who is a fresh- man and TikTok user, Yaindhe Razo, ex- pressed a similar yet different statement:
"I'm not into that stuff? Like, it could be possible, maybe, depending on what they are trying to search but I don't think they'll be looking [into] every single person be- cause there's a bunch of people who use the app."
Razo doesn't believe that it's possible for the Chinese government to look into every account in TikTok, since TikTok has over a million active users a month.
"I don't think they'll be watching every single account but maybe the people, the more popular people they might be looking ..but I think people's accounts that aren't well known or aren't even that big or just viewers, they most likely would not be looking for data." She has a thought that rather than the Chinese government looking at casual viewers, they are collecting data from more popular and famous people using the app.
Although it isn't the first time TikTok has been accused of data collection, a solution was proposed by the US government to censor TikTok, both Cornish and Razo think that the censorship is not needed. TikTok has also been called out by parents, who are worried that their children are spending way too much time on the app.
Dr. Jean Twenge, a psychologist, said that TikTok's algorithm is sophisticated and sticky and is a reason why many teens engage in the app for long periods of time. Twenge has had teens explain to her that they only intended to be on the app for 15 minutes, just so they end up spending more than 2 hours in the app than intended. According to Twenge, the more time teens are in TikTok, the more depressed they may become.
Both Cornish and Razo use TikTok for more than 3 hours per day. For Cornish, he states his life has not changed at all while using TikTok, however, Razo said that she has been wasting more time while using TikTok.
Furthermore, Cornish considers TikTok as a safe place for him, but Razo believes the opposite. "Not really, especially like under what side are there because there's different sides like there's some part depending on if you're more into different fandoms which are kind of like cartoons or, if you're into makeup, you're most likely gonna get like, for you for you paints like stuff about makeup and like, if it's about like, maybe like a certain show you like it's gonna be about those. But like, it really depends, but for the most part it can be very, very not that safe or maybe toxic."
With these concerns in mind, both Cornish and Razo agree on something, and that is that both will keep using the app, despite the danger.
"I'm gonna keep it because that's one way I like to talk to my friends, stuff like that because I just, we basically don't really communicate. I just like to send videos that will be in our system videos, which is just basically how we just talk." said Razo.