An artist finds creativity in dyslexia
There's no such thing as the 'best' artist at Franklin Learning Center. Everyone goes at their own pace and flow. There is a student here that I believe applies her creativity in every crevice of her artwork and goes above and beyond, her name is Naomi Hoover. Hoover is a sophomore art major who's gifted in her craft and makes the most of her artistic abilities, while also keeping up with her studies. She's been homeschooled for most of her life, and has had to rely on her own scheduling and endurance. Entering highschool for the first time and being introduced to a new environment with new people gave Hoover a new platform to flourish. Once she enters her art station, her same energetic flow shines through her highly detailed pieces, rendered with thoughtful and intricate thought behind her pieces. Hoover names her Mandala assignment when discussing her favorite art pieces, a recent piece. She says, "I really liked how it [the Mandala piece] turned out. It kind of gave me the right feel, and had the right tone. The theme of an organ system and the body really worked well with it, the heart, the intestines, and then the eyes, and how it kind of like, to me, was like revealing what's inside a person. "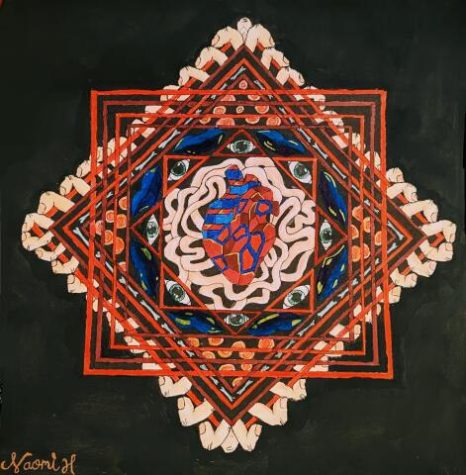 Although Naomi is a very talented person, she, too, has her challenges as well. Hoover has dyslexia, a reading disability that makes it difficult to comprehend speech sounds and how they relate to letters and words. Having dyslexia made it exhausting for Hoover to understand subjects like math and writing unlike her brother. She became frustrated, it felt baffling to her, until she got her diagnosis. She shares her thoughts on having dyslexia and how it allowed her to appreciate art more. "My brother is really good at reading and doing math. And when I was trying to read simple words like cat…my mind felt like such a struggle just to grasp what it meant. Then with art, it felt like it came easy, that's why I started. I'm happy that I'm dyslexic, I'm happy with that part of me that made me more expressive." 
Hoover's interest in writing and art stemmed from multiple aspects of her home life. Before she knew about her dyslexia, she found her spark in art through her mother's own talents. Questioned about who influenced her love for art, Hoover shares, "I think it was probably my mom. She was really into art. And when we're little, we would go to art museums and travel a lot. We went to a bunch [of museums], we saw sculptures and paintings, like New agey and Roman art…but there was a…surreal painting that I really loved. And it kind of made me want to be able to start drawing. "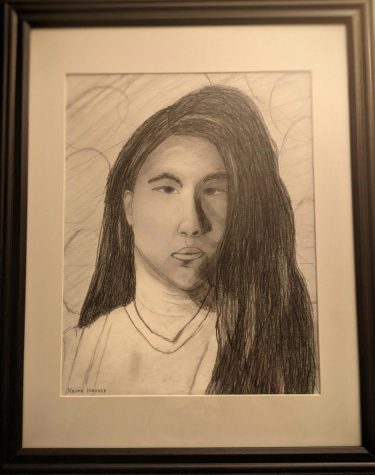 Once she stumbled upon the certain painting, she was astonished. The spark had gone off, and her artistic spirit sprung to life. Her passion led her to participate in various art competitions. At 13, she would sell her art. Though most were small, and the reward for winning was a 10 dollar gift card, the younger her was ecstatic. "I mean, I went into a couple of art competitions and I won. They were pretty small competitions. But we made, like, five to six pieces of anything we wanted. I also sold some art near Mount Airy. I can't really remember the place, but they had an art program going on. And I also joined a theater group and made props for them."
Most of her work is inspired by surrealism and her daily life, tying it together with her writing. Despite struggling to read, she still found a space of comfort and interpretation from it, being able to convey not only her story, but her feelings. 
"
I'm happy that I'm dyslexic, I'm happy with that part of me that made me more expressive.
— Naomi Hoover
Even though she's dedicated a good portion of her life towards art, expressing her thoughts, opinions and stories through her work, Hoover still doesn't completely know what to do in her future. She's developed her art through her writing as well, both of them being interwoven together. Without one or the other, she feels as though it's not complete. With her future in her horizon and sight, she's still trying to find a career where she can have both. She shares her thoughts on her future, "I can't say indefinitely what I want to do. I definitely want to have a job that incorporates artistic design, writing and art. But writing and art feel like the same thing for me, so I'd be happy doing either and I feel like I'd be able to express myself fine, either way. I found out that I really do love art, and I wouldn't want to stop it.
For many people, art can be therapeutic, a gateway to get away from reality, or just an assignment to get done, but Hoover uses it to demonstrate the strengths she felt she wasn't able to express before. Overcoming and making her dyslexia into a power, finding her own artistic values, and writing her way into her new world has sculpted her into an intuitive creative thinker, and a spectacular artist. Naomi Hoover is, and will forever be, a dyslexic creator, and she's learned it's become a part of her that she enjoys. A part of her that's made her become who she is today. "I think dyslexia can be really hard for people. And it sometimes feels like it's a curse or something negative. But I believe it also gives the person another gift, so that they can have more of an artistic side and be able to create wonderful things. Look at Albert Einstein, he was dyslexic, and he made crazy, amazing inventions. He maybe wasn't very good at writing, or you know, certain things, but he was able to do what he liked and create incredible things."