Inspired teacher inspiring students
High school kid who had no idea that he would help FLC students find their way in life. Matt Socci had no idea in high school what he wanted to do. The B student did his best to pay attention in school, though as much attention he paid, he had no idea what career he would be pursuing in the future.
Eventually, Socci found his passion, teaching. He got his undergraduate degree at Eastern University and a master's degree at Chestnut Hill College. He is now employed as a special education compliance monitor at FLC high school.
"I also provide push-in learning support in Math classes, English class," Socci said.
Mr. Socci explained that his toughest challenges were during the 2021-2022 school year.
"Yes, it was due to a shortage of teachers. Teachers quit, and it was just an overall difficult year for employment."
I found myself truly admiring him for hanging in at that horrible time. As an FLC student, I remember being frustrated and I got the help I needed from Mr. Socci.
Mr. Socci enjoys his job. He's made good friends. He even invited some co-workers to his wedding.
Matt Socci believes FLC is a great place. "I've worked at other high schools and I do think we have a good school. We have motivated students and we have teachers that truly care about students."
The worst part of his job is paperwork, I feel his pain.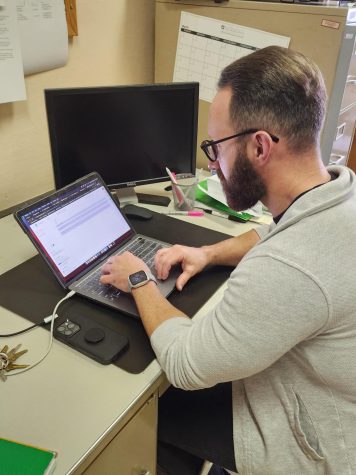 I found him to be extremely interesting. His hobbies include weight training, video games, and walking his puppy. I was most interested in his weight training hobby. Socci went more in depth on his workouts.
"I follow a 3-day workout training schedule: upper body push-based muscles for day 1, upper body pulling muscles for day 2, and leg strength training for day 3."
I hope to be one of many students that runs into him after my high school years to tell him how successful I've become. To also thank him for the role he played in helping me succeed.
"The best part has got to be working with students and being able to see them progress and seeing them be able to go to college and get a good job." Socci explained.