Telecommunications technician makes a living in the sky
Mike Wallace is a 39 year old telecommunications tower technician. He builds cell phone towers and installs antennas, radios, and fiber optic cables for a company called Transylvania Construction LLC.
Mike Wallace has worked for Transylvania Construction LLC for eight years and he's worked in the tower industry for 11. Before he worked in the tower industry he was a Pipe Fitter at Caddick construction company Laying water mains for APO America.
¨ I Wake up early and go to the shop. Load our truck up with the materials needed for that day. Drive the site, climb the tower, and install what we need to install. Make sure everything's working properly, test everything… and take close-up pictures and go home for the day¨
Mike Wallace had to go through lots of very hard training to work on towers but he says it's worth it because he makes great money.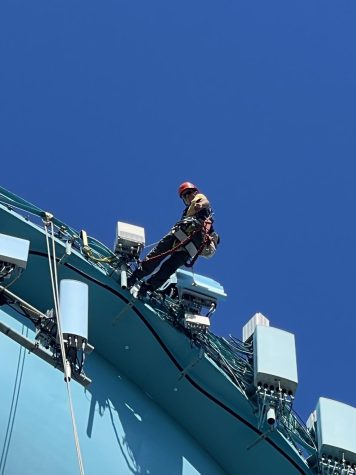 ¨ I make awesome money. Awesome money.¨
He said he wouldn't recommend doing what he does but if you do want to he gave some advice.
¨ There are two lines of thought there. Some people want to do what I do I tell them don't.  I tell them don't because, You know, there's a very challenging job. There are some people that you know that they can do and I just tell them they just got to Aizu ears, ears and eyes open mouth shut type thing. It's very. If you just see what other people do and listen and learn you can have a great career."