Swarthmore student teacher beyond the classroom
In the last month or two, if you've stepped into Madame Garcia's classroom, you might've seen a second person in the room running around, helping students, or selling chocolate. You might've thought "who is this person?". This person is Mademoiselle Hân Nguyen, a graduate student teacher from Swarthmore College.
Nguyen graduated from Swarthmore in May 2022 and is working on a 9th-semester program. She is working with the FLC French department while finishing her studies. When Nguyen finishes the semester she will be a certified teacher.
"French and the ESOL certification means that I am prepared to support English language learners. And also because when you teach English to other people that in a way, is giving or teaching you the same techniques see us for French learners." Nguyen said when asked what she will teach upon getting her certification. Though this will be her end game, this wasn't her original plan.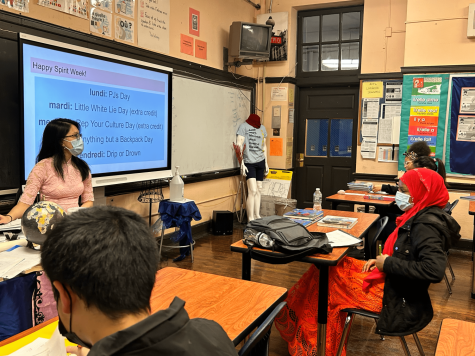 "So I actually wanted to go into psychology when I was in high school, and then I got to college and realized that I did not want to do psychology. So I went into education because I like working with children a little younger than you, like daycare. I actually didn't start learning French until I got to university."
Besides being a student going to classes and being a teacher, Nguyen has some hobbies outside of the classroom.
"I play a lot of video games. I draw, I sing, I actually have a YouTube account where I do covers so I also am a singer at a church, a volunteer singer."
Vietnamese church community. And it was really important for parents to have Vietnamese people around. My dad is actually head of the Council. And so I spent a lot of time at church. So I sing, (and) I also served. I was part of the youth group, I taught temporarily, I read a lecture for the masses."
Nguyen spends most of her time playing Genshin Impact and has been playing since a month after its release two years ago, though that isn't the only game she plays.
  "I have the most time for Genshin. But I play computer games and I play mobile games. And I started with games like Sims and an MMORPG called Terra that actually closed down this year. But from that, I started finding more avenues or more different games to take up my time."
When asked what her biggest advice for incoming college students is, she said "figur[ing] out your course requirements because the biggest issue that people might have is not realizing they need to take a class or blah blah until they get to their senior year they realize they're missing credits or something. Of course, if you don't know what you want to do yet, that will be difficult. But also know that college does not have to be finished in four years, you can take a lot of different routes."