Judith Johnson keeps the library feeling peaceful
As the lunch bell rings, Franklin Learning Center climate staffer Judith Johnson waits at her desk in the library to greet students and create a peaceful environment for them during their brief break before their next class.
"If students come in and they're not taking books out, they're there for the quietness, the relaxation, and I think that's good for them during the day," Johnson said. "So I find that to come to the library whether you're reading a book or just relaxing or doing schoolwork, it relaxes your mind, spirit, soul, and body."
It might come as a surprise, but the library everyone sees today is not what it always used to be. It took a lot of work and help for Johnson to turn it from looking like a storage room to looking like a real library.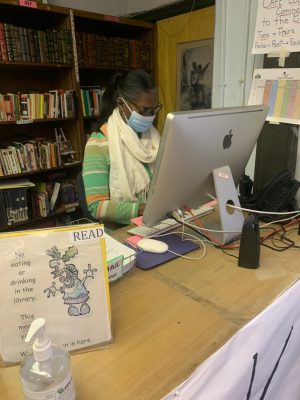 "The library had not been in use for a few years. So when I came in, the library was really just full of boxes and different storage that they just put in there that wasn't being used," Johnson said. "And so [the] challenge was to get it all cleaned out, to bring it back up to its natural beauty as a library."
All that work to transform the library paid off. During lunch, some students may prefer the quietness of the library compared to the loudness of the cafeteria. Now, some students come into the library almost everyday. This, in turn, allows Ms. Johnson to create bonds with the students.
"My relationship overall is pretty good. And the reason why I could say that is because I especially know my students that come into the library," Johnson said. "They appreciate having somewhere quiet that they can just come in through the day to day things in school and just come in and wind down."
There may be times where there are some disruptive students, but Ms. Johnson always finds a way to work with them.
"One thing I will say as a word of wisdom, is that we as educators have to have patience in order to work with students," Johnson said. "And sometimes some students are very hard and very difficult to even get through to them to even talk to them. But we have to have enough patience to say 'I'm going to be able to do this one way or the other.'"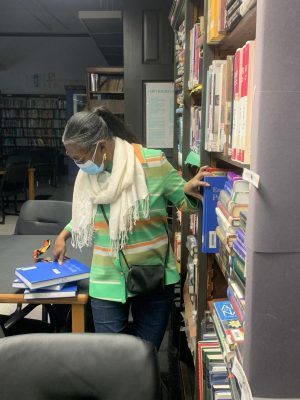 From time to time, Johnson can overhear the conversation of students while they are in the library. When she is able, Johnson provides some advice to help guide them forward.
"We mold ourselves, life molds us also, but we have to know what… I'll put it to you this way. We have to know when to eat the meat and spit the bones out," Johnson said.