A Walkout To Save Our Lives
Authors: Franchesca Carrera and Hannah Woodruff
On Wednesday March 14, 2018 at 10AM thousands of students all over the country will be walking out of their classes and showing their solidarity for those killed in the Stoneman Douglas High School shooting exactly one month earlier on February 14th. Students will remember the seventeen victims of that shooting with seventeen minutes spent naming, honoring, and mourning them. 

The Stoneman Douglas shooting marked the fourteenth school shooting in the United States in 2018. Students all over have expressed their disappointment in the way the government was handling these saddening events, demanding change immediately. Some have shown their anger in the form of tweets to the president and NRA (National Rifle Association) while others have written letters and taken videos of themselves and sent them to Stoneman Douglas survivors. Now they walkout.

Franklin Learning Center Junior Luvonda Fuller has been a student to look out for these last couple of weeks. After receiving a notification from her news app about the shooting, she immediately texted her program's group chat, Positive Vibes Only, and asked everyone to send their prayers in Florida's way.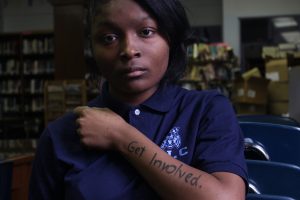 "This walkout is important because we need to honor people's lives." Luvonda said. "We should be safe at school, so gun control laws will have to change one way or another."

The walkout started as "March for our Lives," which was created after the Stoneman Douglas shooting. The main event will be held in Washington D.C with hundreds of thousands of participants, including students, teachers, and school administrators. These are all student-led, showing the power and force that today's youth display.

While the creators hope that people around the country will sponsor students who cannot afford to travel, hundreds of "sister-marches" are also in gear for those who cannot make the trip to D.C. Philadelphia's march will take place from 10AM-2PM on March 24. 
The Philadelphia Student Union, an organization created in 1995 by School District of Philadelphia students who wanted change in their schools, has also spoken about the marches and walkouts.

PSU members will be walking out and then joining other students from around the city at the Philadelphia School District building at 440 N. Broad St. They will then progress to City Hall. This is not PSU's first action since the shooting in Parkland; they have also been a part of other walkouts, leading peaceful protests and marches all around the city.

For students who participate, FLC Principal Nicole Lee says, "there will be no consequences" as long as the walkout is "peaceful and done in a respectful manner." "This is an opportunity for [students] to express their feelings about what is going on." Lee also noted that the "school district's response is that we're here to support them."
Because of different marches taking place around the city, Lee says there will be no consequences even for students who do not return to class after the initial seventeen minutes.

Due to the great amount of support given to students, Luvonda has also taken this chance to show her peers how important this truly is.

"My plan is to get almost six hundred students to walk-out to the front of the school." She said. She hopes that no one will take this matter lightly, and has been using her classes to pass around a sign up sheet to ensure everyone's attendance. "Once everyone is out, I start naming every human being that was killed at school by a gun since December of 2012 to February of 2018."

Carolina Herrera, a sophomore at FLC, is one of the many students that will participate in the walkout. "If enough students from schools across the US join together and protest, it'll show these politicians that we aren't just gonna stand here and wait for another shooting to occur." She said. "We care about our safety and what happens around us!"

As the walkout comes closer, students are trying to figure out whether or not they should participate. "Please get involved." Says Luvonda. "If you are coming, come with a positive mindset."