The Making of an Expert
"You need to practice," says Gloria dePasquale, a cellist from the Philadelphia Orchestra since 1977. The expert musician visited FLC as part of a free show for students and staff in September.
While she was here, she offered advice to some of FLC's student musicians. First, she emphasized form: "If you don't have your form right, you won't play it right."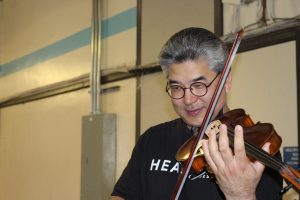 Like many FLC students, the cellist first got her start by playing in grade school. She got stuck playing the cello but fell in love with it over the summer. Free lessons at school worked for Ms. Depasquale at first, but she agrees that "you need to find the best instructions available if you want to advance yourself."
"Get an expert on whatever instrument you play… An expert on your instrument can help you get set up to get more detailed information on your instrument. If you live in Philadelphia, that's great, because there's so many experts here to assist you for any instrument."
Any music major who wants to make a career out of playing an instrument should take Gloria's advice because she has been doing just that for 60 years.
Article Authors: Aniah Gonzalez, Tyrone Griffin, Bless Thompson, Michell Carter