Class of 2024 finds itself in Discord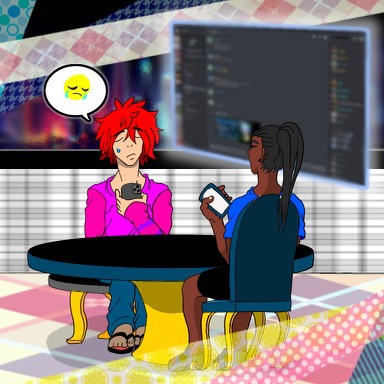 With the COVID-19 quarantine still in effect, Franklin Learning Center classes are remote, forcing new ninth-graders to get to know each other while in Google Meet and Zoom classes. This can be awkward and so while upper-class students are using Snapchat and Instagram to keep in contact, the class of 2024 has turned to Discord.
Discord, a free instant messaging app specializing in text, video, audio, and image communication between its users, has over 250 million users worldwide and some of those are FLC students in a server made by the class of 2024.
The FLC Highschool Discord server's stated mission is to "bring everyone together so we all can know who each other is and get comfortable with each other just so it won't be too awkward when going to school physically."
Students can connect across all majors within the server through major-specific channels where they can show their skills in what they love and in voice channels where they can listen to music and talk to each other while working or playing games together. Some students in the server have found it easier to make friends within the server than they would have in a classroom setting.
"If we were in the building," said ninth-grade Art major Ni Silva, "I'd be awkward and unable to talk to most of [the other students]."
Vocal Music major Chaitali Kidd feels that she has connected better with her peers through Discord and social media: "In person, everyone would be quiet and they wouldn't exactly be themselves. They would change by meeting different people. But on social media, I feel like you can be yourself instead of changing for other people."
On top of the social benefits, there are academic reasons to join the server, too. Students within the server can get caught up on what they missed in class that day or ask where the work is on Google Classroom. Students can even help each other with homework and assignments in calls or just simply over text.
"Discord helps in many ways, whether it be helping other classmates or just hanging out safely online," says Kidd.
But hanging out safely is not a given on Discord. There may be a concern of exclusion and bullying in the server, which can also be said about any social media platform students can interact on.
To prevent these things from happening, the FLC Highschool server has enlisted a staff of six moderators who make sure that rules are followed and conversations remain civil. A violation of the rules will result in a punishment by the moderators or admin.
The server in its current state is just for Freshmen. The admin of the server, who wishes to remain anonymous, says "We will make it open to higher grades once all Freshmen in the server feel comfortable meeting upper grades."