FLC students, teachers bring building concerns to the Board of Education
Franklin Learning Center senior Janiah Twiggs, opened up the Board of Education's January meeting with the following lines from Alicia Keys' "If I Ain't Got You": "What good would it be / with no one to share, with no one who truly cares for me?"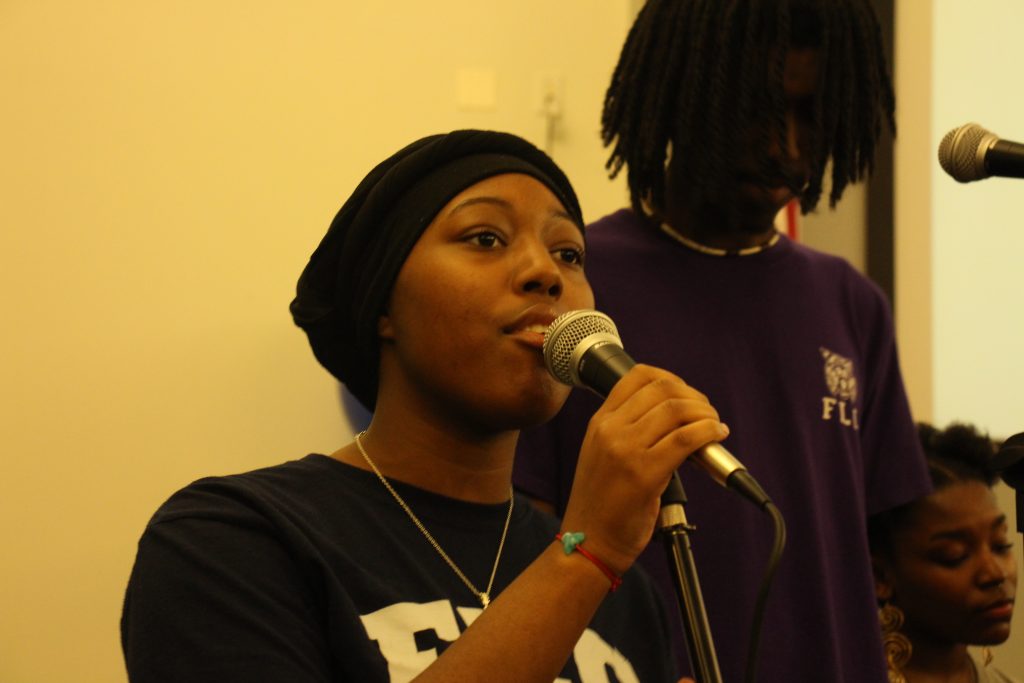 Lack of care was a common theme at the meeting, the first full meeting of the School District of Philadelphia's Board of Education since FLC was closed due to asbestos in December. Twiggs, lead singer of FLC cover band Universal Language, registered to speak to the Board of Education about the building conditions at her school.
"We want to be able to be [as] creative as possible in the music fields that we are passionate about and we are limited due to our practice space," she said. "We need more to build and to become who we want to be."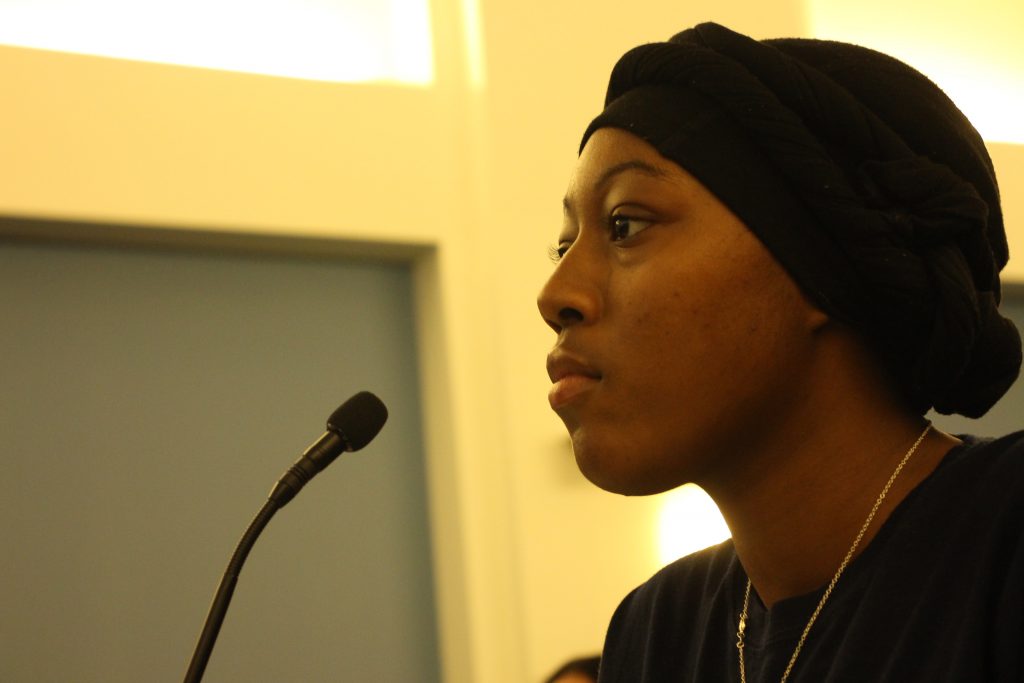 The only response came from Dr. Hite, Superintendent of the School District of Philadelphia. He stressed that there is a plan in place to fix issues in auditoriums across the district, but also admitted that there is no timeline for when work will be done.
Hundreds of members of the community came to the meeting to bring up issues like auditoriums. Some arrived early for rallies outside of 440 N. Broad Street, trying to drum up support and attention.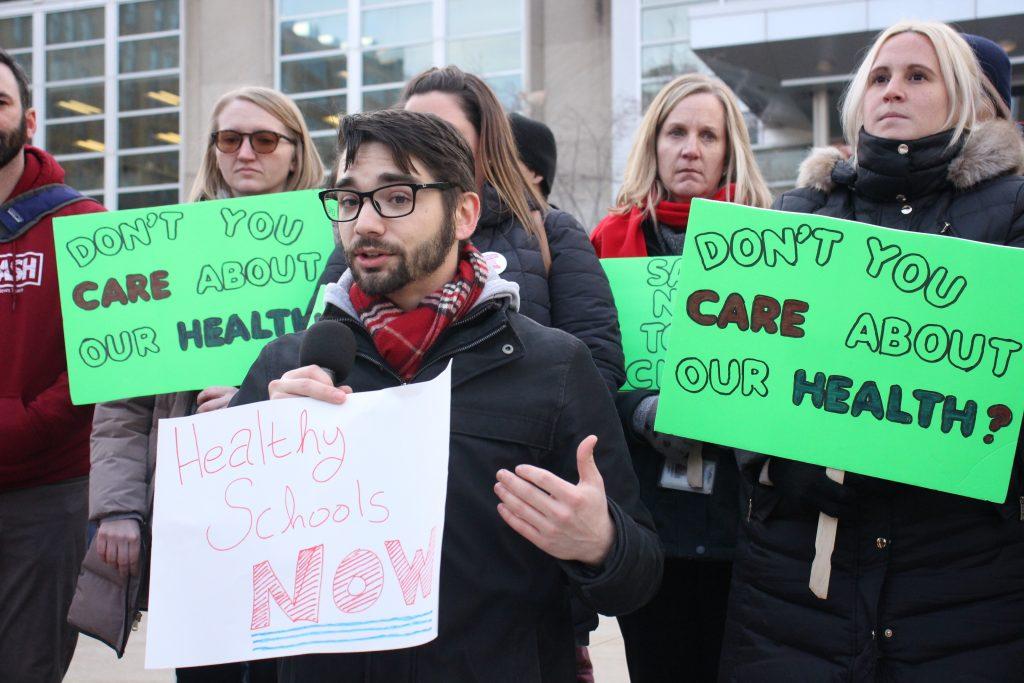 Rosalind Lopez and Veronica Perry, members of the McClure community, came to the rally to support teachers.
"We believe in what they're believing, that they need a safe environment to teach," said Lopez, "and also that our kids deserve a safe learning environment."
FLC teachers also attended the "Rally for Safe Schools," addressing the crowd as the Building Representative for FLC teachers.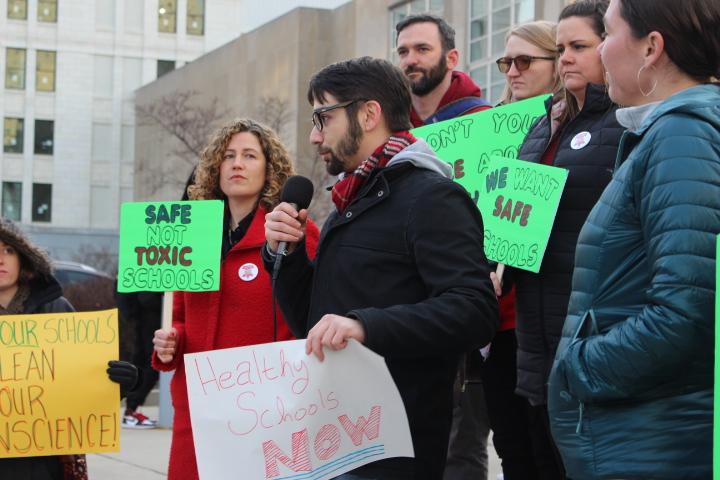 As the meeting began, members of the Board of Education took the time to notify those in attendance that they are aware that there are many issues concerning the schools in the district. However, the district does not have enough resources or manpower to fix all of these issues right now.
FLC teachers Kelsey Dietrick and Honey Polis-Bodine both registered to speak on behalf of FLC.
At Franklin Learning Center, Dietrick said, "we've been told there is 60 years worth of dust in our ventilation system…. Really that means those vents haven't been cleaned since they were installed. I go home with a sore throat. I sit in my building and get random hives on my face, from what I assume must be dust."
In reply to Dietrick's request for a timeline for work on the ventilation system to be given to the FLC community in writing, Dr. Hite said that he would and that by the start of the 2021 school year the entire ventilation system will be cleaned.
Honey Polis-Bodine followed Dietrick by requesting an air quality test for FLC. She informed the Board of previous issues at the school that the school district chose to neglect.
"We had a walkout 30 years ago about asbestos," she said. "They were going to give us a new building. We've been complaining about health issues for years."
According to the Board of Education, they will be spending 25 million dollars a year to fix the environmental issues in schools. 15 million will go towards lead stabilization and the other 10 million will be spent removing all the asbestos found in occupied areas of schools. On top of the 25 million, they are anticipating getting some of a billion dollar state environmental grant to help resolve all of the issues in every school in the district.
But for schools like FLC, the repairs may be coming too late. Polis-Bodine, a nurse and Medical Assisting teacher, has been collecting health data that she says shows an elevated rate of illness in FLC teachers. 29% of teachers reported onset of asthma at FLC. 33% reported getting allergies at FLC.
"If we tested the students, it would be worse," she said, citing World Health Organization information that children are more at risk because they breathe more rapidly and absorb more pollutants.
"We have health issues," said Polis-Bodine. "We need your help. Please, please do air quality testing."