A Victorious Release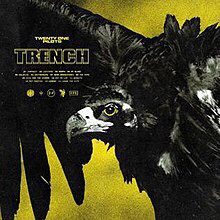 By Dariana Garcia-Bernabe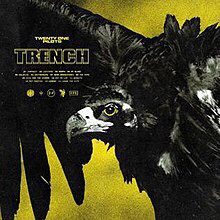 It's been 3 years since duo Tyler Joseph (vocals) and Josh Dun (drums) released their top selling album, "Blurryface." After extensive touring, the duo took time off to relax and work on new music. Finally, after what felt like an eternity on October 5th 2018, "Trench" arrived.
The 14 track album has already scored a place on the Billboard 200 and lands a spot at No.1 on the Australian charts.
Going into the album I felt nervous, my stomach filled with butterflies. I started listening to Twenty One Pilots since I was in eighth grade and now I'm a senior. Wow times goes by fast. Yet, this past year I haven't really listened to them. So, I opened up Spotify, put on my headphones, and pressed "play."
"Trench" opens with "Jumpsuit", a bass driven song. As the song progresses, Joseph and the instruments soften, but then there is an increase, with him literally screaming the lyrics at the end. As, it ends it has a perfect transition into the next song, "Levitate." I really like "Jumpsuit" yet I can't say the same about "Levitate", although a cool thing about it is that around 2:10, you can faintly hear what seems like "welcome to trench."
Something that I really enjoyed about the album is that in some songs you can faintly hear some stuff in the background like in "Morph" at around 3:43 you can hear a deep voice say, "Josh Dun."
"My blood" is one of my favorite songs from the album. It's another bass driven song with synths and a tambourine, along with its catchy yet sincere lyrics, "You're facin' down a dark hall, I'll grab my light" and "stay with my, my blood, you don't need to run." "My Blood" reminds me of "Hometown" which is a track from "Blurryface". I love it so much that I listened to it twice, when I first listened to the album.
"Chlorine" features strings and Joseph is actually singing, both of which are rare for a Twenty One Pilots song.
"The Hype" reminds me of "House of Gold" and "We Don't Believe What's On TV" since they all include a ukulele and hopeful lyrics about overcoming any struggles.
"Nico and the Niners" is interesting, it starts off with Joseph's voice in a deep effect and the lyrics are reversed.
The album closes with "Leave the City" which starts with a nice piano followed by drums in other parts of the song. Near the end of the song the only instruments that play is a piano and Joseph's vocals. Throughout the album a story is told, of a struggle, the battle for freedom, this song feels as a victory, the narrator has left the city, finally free.
Telling from this new album it is clear that Josh Dun is an amazing drummer, Tyler Joseph is a wonderful writer, and the duo is only getting better and better.
It's no surprise that this album is such a success. What sets "Trench" apart from Twenty One Pilots previous albums is that Tyler actually sings in most of the songs, the songs include more bass, and synths. "Trench" is full of incredible songs, both instrumentals and lyrics yet almost all of the songs are more than 3 minutes, like "Bandito" at 5 minutes and 31 seconds and "Chlorine" at 5 minutes and 24 seconds.
Even though I was really nervous that I wouldn't like this album, I am glad that I enjoyed "Trench." It is filled with genuine lyrics, bass and drum driven songs have a place in my heart. I give "Trench" a 4.5 out of 5 stars.