Voting Matters to FLC
Even if you can't vote!
By The Flash Editorial Board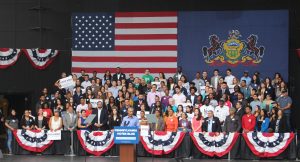 Imagine if the School District of Philadelphia made an announcement that Franklin Learning Center would be permanently closing at the end of this school year. All current ninth- through eleventh- grade students would need to apply to a different high school, or transfer back to their neighborhood school. Friend groups lost, teachers reassigned, and a community destroyed. What becomes of what was? Where would you head next to start anew?
These aren't questions high school students should have to ask themselves, but that's exactly what happened to the students attending dozens of Philadelphia  public schools in 2013. That year, the school district closed 23 schools, including Germantown, University City, and Bok high schools, due to a budget crisis created by the school district, Philadelphia city government, and then-governor of Pennsylvania Tom Corbett.  Approximately 14,000 students were impacted by the closings in 2013, in large part due to officials elected in Philadelphia and Pennsylvania.
One vote, whether it be for the President of the United States of America or a state representative, can impact our day-to-day lives.
Pennsylvania's midterm election is on November 6 and will determine the fates of our Congress as well as our state Senate, House of Representatives, and Governor.
Exercising your right to be politically active is exercising the right to help yourself and the people around you. Even if most of us aren't eligible to vote, Franklin Learning Center's staff, parents, and students need to pay attention to and participate in the upcoming election because it will impact our community.
Local Elections
People often tend to overlook local elections and move onto the presidential bit right away. The media nurtures this norm by giving a tremendous spotlight to presidential campaigns, while local elections don't get as much attention. Although voting for who attains the highest government position is essential, it's the local elections that can affect us the most.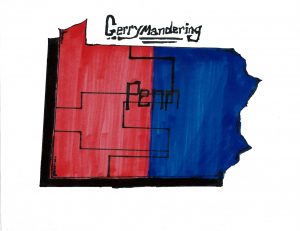 The ones asserting more changes in an average person's life are the same who dictate city regulations. Most policies directly affecting citizens, such as gun control, are those enforced by our local elected officials, yet hardly any involvement appears in their elections.  Compared to the 60 percent who voted in the 2016 presidential elections, only 40 percent voted during midterms. In Philadelphia's most recent election, a new report found that only 24 percent of eligible Philadelphians voted for a mayor. This is partially caused by many American citizens being under the false impression that the president is responsible for all of the policies that affect their lives.
Another misconception citizens have is that their voices do not matter. The American people hold the president's campaign promises with high hopes and when these standards are not met, citizens can develop a "my voice doesn't matter" mentality. However, as a representative democracy, the citizens have the power to choose who will vote on their behalf. If no one votes during these small elections, the "wrong" person might be chosen to represent the needs and wants of the citizens.
Gerrymandering
Every two years, elections are held in Pennsylvania for seats in the state Senate and House of Representatives. Each region, or district, in the state gets to elect its own representatives, which means where you live and the people you live near can seriously impact the kind of representation you get. But who decides where a district starts and where it ends?
In Pennsylvania, election maps are drawn by the state legislature. This means that the political group in power can draw a map that favors their own party. In other states like New York, Connecticut, and Iowa, an advisory commission draws the map, but it can still be politically biased. In California and Arizona, an independent committee draws the map.
Why are these maps so important? Because, if the group that draws the map is biased, the map can misrepresent the people in elections. The use of election maps in this way–to give an advantage to a specific political party–is called Gerrymandering.
How does it affect you? Gerrymandering affects us as voters because it's actually cutting up the number of voter types. This often leads minorities to have less of a say where they live and vote.
It also can unfairly separate people from their representatives. More often than not the areas that are carved out are weirdly shaped, which sometimes leads to individuals being represented by someone who lives and works many miles from where they live. And this doesn't only happen here in Pennsylvania, but all over the United States. It can spread to higher levels of the government that have a legislative body. This includes, but is not limited to, the US House of Representatives. Overall, the danger of Gerrymandering is that it can skew elections and misrepresent what the people want.
Barrier to voting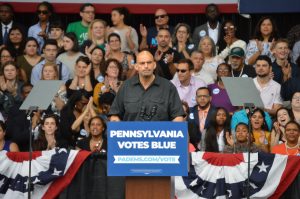 For people and groups wanting to misrepresent what the voters want, there is something even easier than gerrymandering: just keep them from voting in the first place. Across the United States there are many ways that voting has been suppressed or even outlawed. For instance, for most elections, you must be a US citizen over the age of 18 while meeting state requirements (that may vary).
While not being one of the 50 states, American territories have people who are still considered American citizens without rescinding their home citizenship. Puerto Rico, Guam, the US Virgin Islands, Northern Mariana Islands, American Samoa, and US Minor Outlying Islands are all registered as their territories. However, even if they meet all the general requirements for citizenship, they are not represented in Congress and have no one to vote for.
In the United States, people incarcerated for felonies are not eligible to own a firearm, have a passport from the US, and most importantly, in this case, to vote. One mistake can take away the people's ability to voice their opinions and have power in our democracy.
In Pennsylvania, about one out of every 200 people can not express themselves in a vote. This number might not sound so large, however, combined with the other hundreds of thousands of people in other states, it becomes a significant number of people who don't get a say.
In some states you also have to show documents to establish identification to be able to vote. State, employee, student, military IDs, or a driver's license are all eligible to be used for verification. Ways to verify identification differ from state to state, but overseas and military voters are exempt of ID requirements if voting under the UOCAVA (Uniformed and Overseas Citizen Absentee Voting Act).
In Pennsylvania, for your first time voting, you must bring a driver's license or PennDOT ID, Photo ID by government or Pennsylvania agency, US passport, US armed forces ID, Student or Employee ID, or a non-photo ID such as a utility bills, bank statements, paycheck, Firearm permit or a non-photo ID from the government or Pennsylvania agency. After the first time, however, no ID is required except for in North Dakota, where, not too long ago, the law was changed to require voters to have a street address on their ID card, or they will not qualify to vote. Which is a problem, because a lot of Native Americans live in North Dakota, and they do not have street addresses. The law, if not changed by the time of the election, will disproportionately keep Native Americans from voting.
Corbett and the SDP
In 2011, Gov. Tom Corbett's slash to school funding shut down dozens of public schools in Philadelphia and even more across Pennsylvania. The $1.18 billion cut particularly endangered the education of low-income and minority students. As a result, the once bright futures of many youths faced shadows as Corbett's actions drastically backfired on the school district and closed the doors of Pennsylvania's neediest schools forever.
While some tried to justify this massive state cut, no explanation could've saved it from the inevitable outrage of teachers, parents, and students alike. This just goes to show how voting not only affects voters but also non-voters. Your right to vote isn't an option you can choose every other day, nor was it an option for the students whose classrooms were undeniably torn away from them.
Why Voting Is Important to FLC?
We encourage Franklin Learning Centers' youth to take responsibility for their futures and vote because, as previously stated, certain decisions that elected officials make can directly or indirectly affect you or someone, place, or thing that you know.
As the baby boomer generation decreases in size, the majority voting population will soon consist of Millennial and Generation Z voters— our 18 to 34 year olds. Our generation will be the one that has to deal with the consequences of whoever is put in power now so we must prioritize voting and ensure that we have a say in these big decisions.
As a generation that is growing up surrounded by social media, it isn't hard to figure out other people's opinions and views. Our youth is a very diverse group that, usually, wants to push positivity, equality, rights, and more of the like onto many situations in today's societies. These situations won't be changed by a couple retweets or a post, waiting for others to make the decisions for us and then complaining when we see the outcome.
By supporting the candidates who share our views and best represent our needs and wants, we are voting in our best interest and, therefore, pushing change. Voting means using your voice to address issues and call for changes in communities needing the improvement.
The Flash Editorial Board encourages every member of the FLC community, whether you can vote or not, to get involved in this election!