31 Days of Scare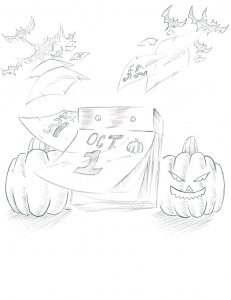 By Nezome Pagan & Janelis Duran
October is here and it's the month of ghouls and beasts, costume parties, and fright fests under the blankets with friends. We all have our go-to scary movies but here's a spooky list that'll ensure you'll have the scariest (or funniest) Fright-tober to date!
Casper(1995) (PG)
"Most ghosts are creepy but [he's] the opposite, [I] think it's adorable."  – Mia Flores
Halloweentown(1998) (TV-G)
Marnie and her siblings get a big shock when they follow their grandma home to Halloweentown – and find out they come from a family of witches. The town is the only place where supernatural beings can lead a "normal" life, but the trouble is looming, and on her 13th birthday Marnie not only finds she is a witch, but that she and her family are involved in a fight against the evil that is threatening to take over the world.
Hocus Pocus(1993) (PG)
After moving to Salem, Mass., teenager Max Dennison explores an abandoned house with his sister Dani and their new friend, Allison. After dismissing a story Allison tells as superstitious, Max accidentally frees a coven of evil witches who used to live in the house. Now, with the help of a magical cat, the kids must steal the witches' book of spells to stop them from becoming immortal.
Mostly Ghostly(2008) (PG)
Aspiring magician Max Doyle discovers two lost ghosts — Nicky and Tara — haunting the basement of his family's home and agrees to help them find eternal rest. In exchange, Max's newfound friends set out to help him win the heart of Traci, the most popular girl at his school. But, when their magical antics make them the targets of an evil apparition the trio must stop his maniacal plan before Halloween.
Beetlejuice(1988) (PG)
After Barbara and Adam Maitland die in a car accident, they find themselves stuck haunting their country residence, unable to leave the house. When the unbearable Deetzes and teen daughter Lydia buy the home, the Maitlands attempt to scare them away without success. Their efforts attract Beetlejuice, a rambunctious spirit whose "help" quickly becomes dangerous for the Maitlands and innocent Lydia.
Twitches (2005) (TV-PG)
In the magic realm of Coventry, the twin sisters Artemis and Apolla are saved by their protectors Illeana and Karsh from the Darkness and brought to another dimension. They are adopted by different families but on their twenty-first birthday, their protectors force them to meet each other. Alex Fielding lost her mother three months ago and is alone seeking a job while Camryn Barnes lives with her beloved wealthy parents. Once together they find that they have magic powers and they should return to Coventry to save their biological mother and their kingdom from the Darkness.
The Nightmare Before Christmas (1993) (PG)
Jack Skellington, king of Halloweentown, discovers Christmas Town, but his attempts to bring Christmas to his home causes confusion.
Monster House (2006) (PG)
"It's similar to stranger things, it [has] an old 80's vibe" – Ms. Way          
The Addams Family (1991) (PG-13)
When a man claiming to be Fester, the missing brother of Gomez Addams, arrives at the Addams' home, the family is thrilled. However, Morticia begins to suspect the man is a fraud since he cannot recall details of Fester's life. With the help of a lawyer, Tully Alford, Fester manages to get the Addams clan evicted from their home. Gomez realizes the two men are conspiring to swindle the Addams fortune and that he must challenge Fester.
The Corpse Bride (2005) (PG)
Victor Van Dort, son of fish merchants, finds himself in an arranged marriage with Victoria Everglot, a high-society woman whom he's never even spoken to. After Victor horribly messes up the wedding rehearsals, he ventures deep into the woods while practicing his vows. However, once he finally gets them right, he discovers he accidentally recited them to a corpse. His new, dead bride takes him with her to the Land of the Dead, while his living fiancé waits desperately for his return in the Land of the Living. With two brides both pining for him, Victor must decide between his love-at-first-sight fiancé Victoria, or his tragic corpse bride Emily.
The Haunted Mansion (2003) (PG)
A realtor and his wife and children are summoned to a mansion, which they soon discover is haunted, and while they attempt to escape, he learns an important lesson about the family he has neglected.
Girl vs Monster (2012) (TV-PG)
"It's about a girl trying to identify herself" – Bradley Lopez
Mom's Got A Date With A Vampire (2000) (TV-PG)
The Hansen kids are in a jam. Adam and his best friend Duffy have gotten their hands on some tickets for the Headless Horseman concert, and his sister Chelsea has a date with her dreamy boyfriend, Peter. The only problem is they're both grounded. Chelsea and Adam will do whatever it takes to get their mom Lynette out of the house, even if it includes a chance meeting with a very mysterious man. Everything seems to go according to plan until their little brother Taylor realizes that this stranger might be a vampire.
Silver Bullet (1993) (R)
The small town of Tarker's Mills was a place that was very peaceful, where nothing extraordinary ever happened until one night when murders began. The townspeople believe it's some maniacal killer on the loose whom they intend to hunt down. Marty, a young handicapped boy, believes the killer is no man at all, but a werewolf. After a run-in with the werewolf, Marty and his sister Jane hunt all over town for the man who is the werewolf.
Tower Of Terror  (1997) (Unrated)
5 people walk into a hotel elevator, but something goes very wrong. The elevator collapses 11 floors and the five people roam around the hotel as ghosts. 60 years later, reporter Buzzy (Steve Guttenberg) and his niece Anna (Kirsten Dunst) are trying to find out the mystery of the hotel. An old lady named Abigail tells them that if they find a belonging of each person on the elevator they will be free from the hotel.
Sleepy Hollow (1999) (R)
Ichabod Crane is sent to Sleepy Hollow to investigate the decapitations of 3 people with the culprit being the legendary apparition, the Headless Horseman
Dawn of the Dead (2004) (R)
A nurse, a policeman, a young married couple, a salesman, and other survivors of a worldwide plague that is producing aggressive, flesh-eating zombies, take refuge in a mega Midwestern shopping mall.
Berberian Sound Studio (2012) (Unrated)
A sound engineer's work for an Italian horror studio becomes a terrifying case of life imitating art
The Shining (1980) (R)
"I thought the shining was very disturbing" – Ms. Hatziandreou
The Ring (2002) (PG-13)
A journalist must investigate a mysterious videotape which seems to cause the death of anyone in a week of viewing it.
House at the End of the Street (2012) (PG-13)
After moving with her mother to a small town, a teenager finds that an accident happened in the house at the end of the street. Things get more complicated when she befriends a boy who was the only survivor of the accident.
Don't Breathe (2016) (R)
"It was a lot better than I thought, and some scenes were disturbing but overall I was kept at the edge of my seat the entire time I was watching." – Franchesca Carrera
A Quiet Place (2018) (PG-13)
" It wasn't that scary" – Sara Bendrihem
Hostel (2005) (R)
3 backpackers are in Amsterdam where they get locked out of their youth hostel. They are invited into a man's house where he tells them of a hostel somewhere in eastern Europe where the women are all incredibly hot and have a taste for American men. When they get there, everything is too good to be true.
Saw 3D: The Final Chapter (2010) (R)
As a deadly battle rages over Jigsaw's brutal legacy, a group of Jigsaw survivors gathers to seek the support of self-help guru and fellow survivor Bobby Dagen, a man whose own dark secrets unleash a new wave of terror.
Raw (2016) (R)
"In the movie, the main character is a girl who's a vegetarian and is starting her first year at veterinary school. She tries to eat meat to fit in with the rest of her peers and then develops a desire to eat human meat. It's disturbing yet I couldn't stop watching it." – Jeancela Acosta
The Human Centipede (2009) (R)
A mad scientist kidnaps and mutilates a trio of tourists in order to reassemble them into a human centipede.
Evil Dead (2013) (R)
Five friends head to a remote cabin, where the discovery of a Book of the Dead leads them to unwittingly summon up demons living in the nearby woods.
The Hills Have Eyes (2006) (R)
A suburban American family is being stalked by a group of psychotic people who live in the desert, far away from civilization.
Shutter (2004) (Unrated)
A young photographer and his girlfriend discover mysterious shadows in their photographs after a tragic accident. They soon learn that you can not escape your past.
House of 1000 Corpses (2003) (R)
Two young couples traveling across the backwoods of Texas searching for urban legends of murder end up as prisoners of a bizarre and sadistic backwater family of serial killers.
Honorable Mentions:  
The Crazies (2010) (R)
The Descent (2005) (R)
Dawn of the Dead (1978) (R)
28 Days Later ( 2002) (R)
The Fly (1986) (R)