Author: Genesis Tejada-Peralta
It appears as if the Trump administration is willing to do whatever is necessary to protect Americans from gun violence. Everything except banning guns.
On February 24, 2018 President Trump tweeted "Armed Educators (and trusted people who work within a school) love our students and will protect them. Very smart people. Must be firearm adept & annual training. Should get yearly bonus. Shootings will not happen again- a big & very inexpensive deterrent. Up to States."
Trump feels that the obvious solution to mass shootings is more guns and the idea couldn't be more absurd. When did the idea of teachers being "Armed Educators" become acceptable and part of the norm. Why is it up to those who are responsible for educating the youth, to also murder and use violence to protect them? When did part of the criteria begin to include killing?
It is baffling that, despite budget cuts in schools and teachers consistently being laid off, Trump thinks he can find it in his budget to arm teachers and train them in the use of firearms. Not only this, but also that he would provide them with yearly bonuses. Trump's belief that a teacher who is adequately trained in the use of firearms could "very well end the attack very quickly" assumes that it has to get to that point? Why is the President discussing ways to stop mass shootings while they are happening instead of searching for ways to prevent them from happening in the first place?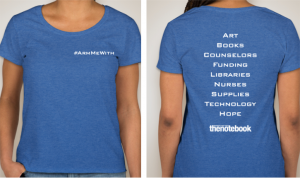 Teachers all throughout America are speaking out and sharing their opinions on Trump's proposal. They have taken to Instagram and Twitter with the hashtag #ArmMeWith to tell the President what they feel they need in their classrooms opposed to guns. In the tweets, teachers ask for better funding, resources to adequately help students with mental health issues, qualified counselors, and many other things that should already be provided for educators.
There is a shortage of countless resources and materials needed in schools all over America and adding weapons to the list should be the Presidents last priority. Help educators succeed in the job they learned to do and the field they chose, teaching.