Author: Alex Fernandez
Pizza is everyone's favorite food, well except for those who are lactose intolerant, and it has been around for centuries. The first modern pizza dates back to the late 1800's and it was made by a man named Raffaele Esposito. Esposito owned an Italian bakery in Naples Italy. However it is important to note that the origins of pizza date back to as early as Egyptian times. Esposito made the first modern pizza for King Umberto I and Queen Margherita. The pizza that Raffaele Esposito made for the King and Queen was dubbed Pizza Margherita named after the Queen and the pizza features fresh san marzano tomatoes, mozzarella cheese, basil, and a drizzle of olive oil.
My version here is more of a typical upbeat take on pizza that is easy to make and is very nutritious (as nutritious as a pizza can be). Enough history let's jump into the recipe!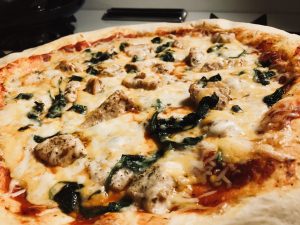 Pizza Dough:
4 ½ cups of flour

2 cups lukewarm water (if your water is too hot you will kill the yeast and it won't activate)

1-2 tbsp of sugar (this 'feeds' the yeast and helps it rise)

½ tsp salt

1 ¼ oz packet of yeast

Vegetable or olive oil
Pizza Toppings
1 cup shredded mozzarella cheese

1 cup cheddar cheese

½ cup sharp white cheddar

Can of tomato sauce

1 egg beaten (egg wash)

Cooked chicken breasts chunks

1-2 cups of spinach
Step 1:
Prepare your pizza dough by adding the lukewarm water to a large bowl. Add the yeast to the warm water and add ½ cup of flour, mix well and let proof for 5-10 minutes. In the pizza I made, the type of yeast I used was active dry yeast so proofing wasn't needed but I did it anyway. After 5-10 minutes the yeast mixture should be foamy and your ready for step 2.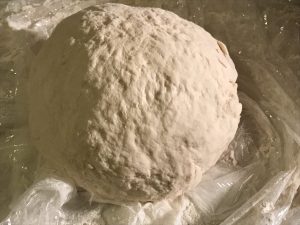 Step 2:
After the proofing stage begin to add the flour in 1 cup increments (4 cups total). Mix well after each addition before adding the next cup. After the final cup keep mixing until a 'shaggy dough' is formed. Lightly flour your countertop surface and begin to knead the dough. It's fine if the dough is still 'sticky' that's what you want to start and as you work your dough it'll become more smooth and elastic after about 5 minutes. Kneading well helps work the gluten in the dough but be careful not to overwork the dough or your pizza won't be light and airy.
Step 3:
Once the dough is smooth and elastic place it in a bowl covered in oil and be sure to spread a little bit of oil on top of your ball of dough. Cover the bowl with plastic wrap and put a kitchen towel overtop of it. Allow your dough to proof for 1 hour, it will double in size.
Step 4:
Preheat your oven to a temperature between 400-500 degrees (depends on the thickness of your crust). Personally for my pizza I used 400 degrees to give my crust time to cook all the way through without burning the toppings. While your oven preheats prepare the toppings for your pizza. Cut 1 chicken breast into medium-small size chunks and brown until cooked through. Using a bit of the oil and some of the juices left over from the chicken cook the spinach with salt and pepper until the spinach has shrunk in size.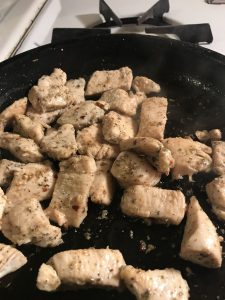 Step 5:
With flour or cornstarch lightly dust your pan you'll be preparing your pizza. (this prevents sticking). Begin to layer with sauce, cheese, meat, and spread the spinach out over the pizza. Brush the crust with beaten egg. Let the pizza cook for 10-14 minutes or until crust is golden brown (cook times vary based on thickness of crust and size of pizza).
Step 6:
Let the pizza cool down for 10-12 minutes before slicing. This recipe makes 2 medium pizzas or 1 large pizza.