SRC Votes to Dissolve, Next Steps Still Unclear
On November 16, the School Reform Commission formally voted to dissolve itself after nearly 17 years of state control. Established in December 2001, the SRC is the state-devised commission governing Franklin Learning Center and the rest of the School District of Philadelphia. The five members of the board, three appointed by the governor of Pennsylvania and two appointed by the mayor of Philadelphia, often attracted criticism for their decisions and actions. The panel's reign is set to end in June 2018, but their replacements remain a mystery.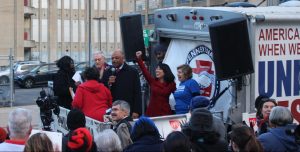 The School District of Philadelphia lies in a state of turmoil as the future of Philadelphia's education system remains unclear. The uncertainty of who will replace the SRC is so important that hundreds were willing to rally outside of the school district headquarters. Their drive is rooted in how much power the SRC possesses.
Created in a time of academic and financial tumult, the SRC has the final say in a wide variety of school concerns, including both approving and closing schools, as well as overseeing the nearly $3 billion annual budget.
Now that the end is in sight for the SRC, rally-goers have directed their attention to shaping the group that will replace the exiting panel. Diane Payne, a retired teacher from Mayfair Elementary, wants to "Make sure this elected, more democratic form transforms into a fully democratic form of governance that represents all of the people of Philadelphia." Rafael Schneider, an alumnus of the School District of Philadelphia, agrees, hoping for "Representation from both parents and teachers…[and] either current or recently former students as opposed to former principals."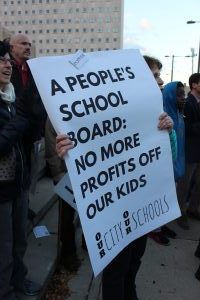 In early October, Mayor Kenney proposed a change to reverse the district from state control to a nine-member board appointed by him and approved by the Council. This announcement lured varying reactions from the people, many of which were positive. Jerry Jordan, President of the Philadelphia Federation of Teachers, doesn't believe the SRC "Should have ever replaced a school board. We are not going to be able to measure the amount of damage." Jordan approves of Kenney's proposal and thinks there are "Many great candidates" for the new school board, including some of the SRC's recent members.
As Philadelphia moves one step closer to regaining control of its school district, rally-goers have high expectations for the new governing body. The historic vote to dissolve the SRC ended 16 years of undemocratic governance for the School District of Philadelphia and promises to give control back to the city. "This is only the beginning of another part of a journey," claims Payne, "because whatever happens next will have to represent the people of Philadelphia." Looking forward, members of the succeeding school board will not take power until the current SRC dissolves on June 30, 2018, leaving plenty of time for citizens to participate in the democracy they fought for.
Article Author: Hannah Woodruff