Editorial: Budget Cuts Bring FLC Down
by The Flash Editorial Board
Imagine walking into a restroom stall to find the toilet covered by a trash bag. As you search for a new toilet, you step into a puddle of water originating from a clogged toilet.  After finding a suitable toilet, you go to wash your hands and the soap dispenser is missing so you decide to just wash your hands with some water. Then, the knob on the faucet doesn't work. This is a scenario many of the students in Franklin Learning Center experience and some of its main causes are the budget cuts that are negatively affecting our school district and our students.
This problem is not unique to FLC's 109 year old building; facilities are unsatisfactory throughout the School District of Philadelphia. However, many districts and schools in Pennsylvania do not have to concern themselves with this problem. For example, across the state in Pittsburgh Public Schools, Carrick High School, with a student population of 822, is strikingly similar to FLC and does not have to face many of these issues.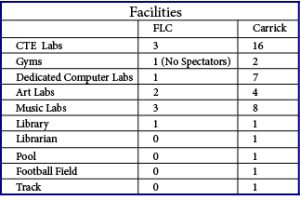 While it is an urban school with its own struggles, Carrick enjoys more CTE labs, gyms, dedicated computer labs, art labs, and music labs, as well as a staffed library, a pool, and a football field and track. Meanwhile, the trackless FLC track team trains and runs laps in the square hallways of the school. An abundance of discrepancies are apparent, but the building's facilities are not the only inequalities between these schools.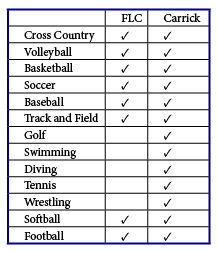 Teacher to student ratios are inconsistent throughout the state. FLC's teacher to student ratio currently sits at 22:1 while Carrick has one teacher for every fifteen students. This allows Carrick to have less crowded classes where teachers can more actively interact with individual students to help them reach their highest potential.
In addition to more teacher attention, Carrick students enjoy more athletic opportunities. They boast all of the sports offered at FLC plus golf, swimming, diving, tennis, and wrestling. The lower sport availability at FLC could also be related to the lack of facilities or lack of coaches, but as previously stated, facilities and staff are affected by budget cuts.
It is important to note that school conditions don't decline toward eastern Pennsylvania. Just a thirty minute drive from FLC sits Harriton High School, in the Lower Merion School District. Since it can be difficult to compare districts of different sizes, researchers measure district spending by dividing total spending by total students. Lower Merion School District spends $26,571 per student.In comparison, Pittsburgh Public Schools (home to Carrick) spend $23,065 and The School District of Philadelphia spends just $13,494 per student. The problem of underfunded schools is not a whole state problem; it is mostly affecting the more poverty-stricken districts, like Philadelphia, and it is causing the quality of education for each student to deteriorate.
One may wonder what causes the inadequacies found in the School District of Philadelphia compared to the rest of the state. The answers lie within the agencies that govern and fund our school district.
The federal government is dealing with a new budget proposal that would reduce the Education Department's funding by $9 billion dollars. The cuts would be partially aimed at Perkins grants: state grants for Career and Technical Education (CTE). This directly affects FLC because we receive Perkins grants to fund our Medical Assisting and Business CTE programs. The money from the grants will be spent on promoting school choice–another problem for low-income areas.
School choice allows for students from low-income areas to choose schools in more affluent areas, moving money to the rich from the poor and causing underpopulation in struggling schools. Choice can also force students to travel great distances to find quality education, rather than investing in local schools.
Moving down the political ladder, the state government has attempted to patch the disparities between school districts by passing a fair funding formula in June, 2016. However, they seem to completely overlook the fact that there is not enough money in the educational budget to fairly distribute and have every school reach state-set proficiency standards. The Public Interest Law Center used the state's own formula to report that they need to provide an extra $3.036 to $4.073 billion to enable students to reach state standards.
The lack of adequate funding from state government affects all schools in Pennsylvania but, in most of them, the responsibility of making up the difference for what their districts need and what they get is passed to the taxpayers. Most districts' school boards set a tax rate that will settle the difference and then they are adequately funded. Unfortunately, the School District of Philadelphia does not participate in this activity because they do not have a school board. Instead, they have the School Reform Commission, a government-imposed board that oversees the school district. Due to the SRC being a state agency, they are not allowed to control local taxes; therefore, they can not make up the difference between the funds they receive and the funds they require.
Just as the cause for budget cuts in public schools are political, the call to action must take the same path. Here is what you can do to help fix our budget crisis:
President Trump's new budget plan would slash much of the CTE funding that helps our school run smoothly. Talk to your US congress people, make them aware of the resources that are going to be cut by the bill, and explain that, by allowing the bill to pass, they will directly affect you and lower the quality of education in the country.
The best solution at the state level is to contact Governor Wolf and state senators and representatives to inform them that, while they have signed a fair funding formula into legislation, our district is still struggling because there is not enough funding for education in our budget. The necessary change is to raise our educational funds budget in order to fulfill the Education Clause in the state constitution which requires legislature to fund a thorough and efficient public school system.
Since the SRC can't set taxes, the best solution for our city would be to abolish the School Reform Commision and establish an elected school board. If Philadelphia had a school board, they would have the power to set a proper tax rate that would allow them to offset state funding shortfalls.
In order to abolish the SRC, action is needed. We, as a community, need to contact the School Reform Commissioners, explain our role in the School District of Philadelphia (student, parent, teacher, administrator, taxpayer), and tell them that it is paramount that we establish an elected school board to ensure a higher quality of education.