I went 5 days without tech–here's what happened.
By Jessica Munz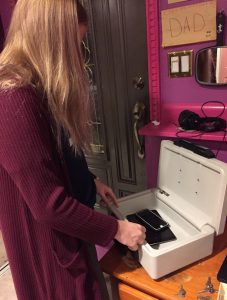 For five days, my life excluded all forms of technology; phone, tablet, computer, television, but included loads of reading. Whether I felt like I was dying of boredom or a needed to binge watch, no exceptions were allowed under any circumstances. Would you be able to survive?
October 7, 6:43 pm, 12 hours until my personal technology was locked away. As I documented this experiment I wrote; "I am excited, yet nervous…there is going to be nothing for me to do and I will probably become the literal definition of lazy."
Was it really necessary to feel nervous? As a teenager growing up in a world that has their eyes glued to screens, it became an addictive habit that I wasn't willing to break. Ironically, I was willing to take a step out of my comfort zone with the objects that provided me with 6-10 hour entertainment and let them vanish from my hands and into a safe box that only my dad had the key to.
My stroll to the bus stop was nothing abnormal but when I sat down, I was confused on what to occupy myself with. "So now what am I supposed to do?" I questioned.
I became familiar with the cycle consisting of my eyes glued to my screen as I watched a downloaded episode of a television show. That happened almost every day, except when I overslept and did not have enough time to download episodes. The time during class went by in a breeze but my assignments for the day were not completely finished.
"Oh darn! I don't have my computer, guess I can't do my work," was a statement that had not crossed my mind once. So where did I go to finish my assignments? The public library that no teenager dares to enter. My after-school journey on day 1 wasn't how I originally planned since I didn't have access to my phone and wasn't notified of my bus' detour.
The bus practically took me through a large loop and I had to walk roughly a mile home because I had no knowledge of the street where the library was located. From day 1 to day 5, either my mom drove me when she arrived home or I took the bus and prayed that it wouldn't be on detour again.
Just one day after the experiment began, my love for reading was starting to resurface. After returning from the library, I would almost immediately begin to read. Life was already seeming more simple and I was able to have more time to myself and I have no excuses on why I didn't do my homework.
A practice SAT website was given to me and what did I do with the beneficial website? I regarded it as nothing and practically put an available resource to help me succeed in the trash. Social media had me distracted and I didn't bother to study. Since the library computer did give me time limits, I was able to complete my work every day by the time I was supposed to, leaving the computer for a kid wanting to play Minecraft. With that limit came the regret of not using my time wisely while my electronics were in my position.
On the last day of my technology fast, I was relieved when my dad handed over the key and my electronics were going to finally be back in my possession. The five days went by in a breeze and helped me learn that life doesn't begin and end with a phone and the like of a social media post. Teenagers spend nearly "nine hours on average," according to a new study from the family technology education non-profit group, Common Sense Media; don't be a part of that average.