Author: The Flash Editoral Board
Lately, schools are faced with the enormous responsibility of keeping their occupants safe during the school day. Many schools across the country are re-evaluating their safety measures after the February 14 shooting in Parkland, Florida. As all tragedies do, the shooting at Marjory Stoneman Douglas High School has influenced administrations to look into their means of protecting students and at the same time has forced students and faculty to notice the breaches of security that occur on a regular basis.
Here at Franklin Learning Center, our security system includes metal detectors and checkpoints for students and visitors. Students are stopped in the morning and have to put their bags through a scanner while they go through a metal detector. Visitors are stopped at the front desk and are required to give a form of identification before being able to proceed upstairs. Theoretically, this should keep the school free from metal weapons or any sort of contraband. What we have noticed, though, are the many ways the security system is being exploited.
As administration has intensified the checkpoint at the beginning of the school day, forcing students to remove their hoodies and jackets as they enter school, there remain significant gaps in our security. While these gaps are impossible to completely remove, these are our recommendations.
Metal Detectors and Scanners
For many administrators, the first place to address the safety of students is at the entrance of the building. FLC is not alone in its use of metal detectors and scanners at its main entrance, but many students worry about whether the scanners are effective–whether they decrease the risk of a shooting.
Because students are required to pass through the scanners, a significant number of students are checked for weapons as they enter the building. Recently this has led to long lines, especially in the minutes leading up to the start of advisory. But are all students scanning in?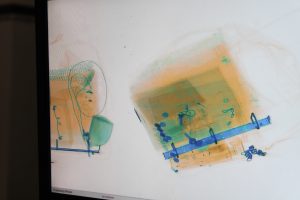 Syreeta Williams ('18) doesn't think so. "Our school does a decent job with stopping all of the people who go through the machines that might or might not have weapons; however, that's only for those who do go through the machine."
Students who arrive late, like Syreeta, often enter the building after the scanners have already been turned off and stored away. It is ineffective for the school to spend money on a security system without subjecting all students to it.
If FLC is going to improve their scanning procedure, it will take a stronger security force. Most of the responsibility falls on the security guards who are the school's first layer of defense.
Principal Nicole Lee agrees that "we need more people in the building" but has her own "ideals about what creates a sense of security and [she doesn't] believe it's more police in a building."
School officer Valarie "Mac" McCaskill, who staffs a scanner before the start of school, is one of the adults who can see if any students are bringing weapons into the building: "Students try to bring dangerous weapons into schools everyday, however not at FLC."
As the school safety debate rages on, there are many factors to consider. Scanners are doing a good job of keeping harmful weapons out of schools but only for the students who walk through them.
Visitors
Another safety concern for students and faculty at FLC is what happens when visitors enter the building. By the time most visitors arrive to the building, the scanners and metal detectors are already pushed to the side. Many find this dangerous and question why it is that students have to go through the metal detectors and the scanners but not visitors or teachers.
Are students seen as more high risk and more capable of breaking policy than visitors who have never been to the school before? Or is the root of the problem less controversial, and simply because we are understaffed? Either way the policy still stands.
Tena Russell, who works at the front desk, says that if a visitor wants to enter the building they have to ¨show me their ID, then they have to sign the log, the name [of the] company they work for, and the date and the time." Although it is school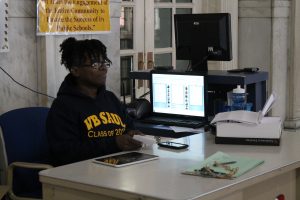 policy for every visitor to sign in no matter what, that is not always the case and there's really no one to blame for that. There are several different scenarios where visitors could get inside of the building without a staff member noticing. Whether it be because no one is at the front door after school or because a student lets someone in, FLC doesn't catch every visitor entering the building.
But what we can ensure is that when a visitor does sign-in they are made to go through the metal detector and scanner, along with teachers and any other faculty members. Faculty and visitors should be no exception in this policy. To ensure the safety of everyone in the building, everyone should be treated equally in this matter and undergo the same safety regulation. It is ultimately the school's job to keep everyone in the building safe, and that means not only keeping them safe from each other, but safe from anyone who could walk in this building with an intention to harm.
Side Doors
Besides visitors entering the building unnoticed, the side doors at FLC are a chronic weakness and compromise student safety by how easily accessible they are. Although locked to the outside, many visitors enter through these doors by having a friend on the inside who is willing to open the door for them. It may be an innocent offense to sneak out of the side doors, but opening the doors for friends could put lives at risk.
Let's say for example you're sneaking back into the school and a random stranger sneaks in behind you as the door closes. Now there's a strange person in the building and you just put innocent lives in jeopardy. Because it would be a waste of assets and manpower to place staff at those entrances, students must be vigilant and aware of their surroundings.
Lockdowns
In the event that a shooter makes it around the scanners or through the side door and into the school, FLC would institute a lockdown. To prepare for such events, the Pennsylvania State Police recommend that lockdowns be performed during each semester of the school year with the assistance of the local law enforcement. At FLC our last non-fire related drill was in October 2016.
Many schools decided to have a lockdown after the February shooting at Marjory Stoneman Douglas high school in Parkland, Florida. One such school was the Academy For College Preparation and Career Exploration in Brooklyn, New York.
Princess Johnson, a Junior at the Academy for College Preparation and Career Exploration, says that her school's most recent lockdown was "the very ending of February or earlier this month." Before then, her school practiced lockdowns during the beginning of the school year.
FLC isn't the only school to ignore the recommendations, though. Many other Philadelphia schools do as well.
Jason Granados, a senior at Excel Academy, says that ever since his transfer to Excel Academy during his sophomore year, he has only witnessed one lockdown and that was also during February this year, the month of the shooting in Florida.
So, why are schools just now starting to show an interest in lockdowns after shootings? And why isn't FLC doing the same?
Vox reports that since the 1999 shooting at Columbine, 32 states have passed laws requiring schools to conduct lockdown drills, or some form of emergency drill, to keep students safe and ready in case of intruders.
In the face of a Parkland-style shooter, Principal Nicole Lee says, "honestly, I don't think there is any way to ever prevent that. That is something that somebody came up in their mind to do. You can never prepare for that."
Some students, as well as staff, believe that lockdown drills won't provide much protection in itself.
Princess thinks "lockdowns can be efficient only if there's full cooperation. My school once had a real lockdown earlier this year and it was a mess. No one quite knew what exactly was happening." The threat her school had to face wasn't a school shooter. "Luckily," she said, "or it would've been really bad for us."
While some districts run simulated shooter drills that use fake blood and simulate casualties, Lee thinks it is important to "let everybody know this is just a drill because based on the climate we are living in, [lockdowns] create panic."
Other students have different opinions on lockdowns. Jason believes that they give "the staff a better chance to understand the situation." But he also agrees that most students don't take them seriously. "When it's a practice drill, they tend to joke around, but we always perform the drill safely."
With so many school shootings taking place in America, questions arise when American students don't take their drills seriously.
"Everything is taken as a joke now," says Princess. "Eventually even serious matters become the latest joke. It's definitely a coping mechanism."
Using dark humor among teenagers has been seen to be a coping mechanism in many things, like internet memes. These type of relevant and dark memes get shared all over social media, keeping the issue fresh in the minds of students.
So, if humor and ridicule tend to help teenagers cope and ease up during stressful situations, then there are certainly bound to be noisy lockdown drills. But according to the State Police's RVAT school safety report, during an internal lockdown (a lockdown where the threat is inside the building) students should be "seated out of sight of the windows and doors and should remain silent."
This means no humor, laughing, or talking is allowed.
"It makes sense that a teacher should be able to lock that door from the inside and go 'be quiet, to the back' until you hear the all clear," says Lee, but if a student is caught outside a classroom during a lockdown, she believes that they should do whatever they can to keep themselves safe, even if that means leaving the building.
Besides noisy students, lack of planning and formation can also be at fault for ineffective lockdown drills. The School District of Philadelphia is starting to make sure schools have their own formula for the best type of lockdown that can protect its students. "The school district is asking for finalized plans," says Lee. "They need to identify what should be the procedure so that there is one clear message. Not 'Oh we're going to do this' and find out that it doesn't work too well." With full cooperation from students and staff, as well as a solid plan, lockdown drills could be a lot less messy in the future.
Lee has begun meeting with school police officers and Philadelphia police to talk about certain scenarios in which a lockdown may have to be enforced. She often asks "What would be the best thing to do for my students?"
"It's sadly our only form of protection against the increasing rate of school shootings," Princess said. Other than practicing the lockdown drills, there's no other way to prepare students for internal lockdowns due to threats. Without the lockdowns, chaos could follow.
"You never really know when something is going to happen," said Jason. "The best thing is to be prepared."
Conclusion
With schools all around the nation acting upon the recent shootings, FLC has been one of the many schools to fall behind in its task of protecting its students. For the protection of all members of the FLC community, the following changes must be made:
More staff must be assigned to monitor the scanners and the front door of the school

That staff must be available before and after school

All people who enter the school, including staff and visitors, must pass through the scanners and metal detectors

All side doors should be actively monitored by security cameras

Lockdown drills should be performed no less than once per semester
It is impossible to let schools be the sanctuaries they should be while outfitting them like maximum security prisons. However, these steps will make many of the efforts FLC is already taking more effective. In our Principal's own words, "if we all work together to keep ourselves safe and secure, then that's what we'll be."