Do you love to cook? Do you love to eat? Do you frequent the chinese store? If you said yes to any of these questions then lets make something that's an instant classic. General Tso's chicken isn't a staple in real authentic Chinese cooking, however it does taste delicious. In fact Tso's chicken was created in New York by a man named Chef T.T Wang. Wangs version was fried crispy with a tangy and sweet sauce. The traditional American dish is made with deep fried chicken thighs and favors a sweet sauce served with white or fried rice.
Anyway enough history let's get into the recipe! Here's what you'll need:
SAUCE
-can of chicken stock
– 1/2 cup soy sauce
– 1/4 cup white vinegar
– 1/2 cup sugar
– 1 tsp hoisin sauce (add on)
– 2 minced garlic cloves
– grated ginger (add on)
-1/2 cup cornstarch
-1/4 cup water
Chicken Breading
– seasoned flour
11/2 cup flour

1 tsp salt

1-1/2 tsp pepper
– egg wash
1-2 eggs

Water or milk
– 2-3 chicken breasts
-6 green onions
Step 1: Sauce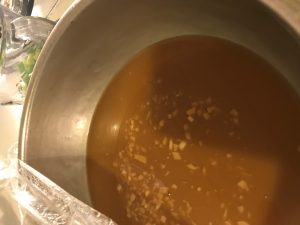 Start Preparing the sweet sauce for the chicken. Mince your garlic finely and set it aside. Next mix together 1 can of chicken stock ¼ white vinegar and ½ soy sauce. Add ¼ cup of water, mix in an optional 1 tsp hoisin sauce now we're going to add ½ cup of cornstarch and ½ cup of sugar. At this point you can add ginger but you don't need to. Keep in mind your sauce will be watery but be sure to mix it well, it will thicken when it cooks. Set aside in the fridge until your ready for it. Also finely chop the green onion and set aside.
Step 2: Chicken Breading
Now it's time to make the breading we're going to fry the chicken in. Prepare a seasoned flour mix with 1 ½ cup all purpose, 1 tsp salt, and 1 ½ tsp black pepper.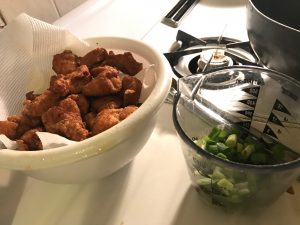 Step 3: Prepare Chicken
The original Tso's Chicken uses dark meat, which is chicken thighs, however my version uses chicken breasts which are juicer than the thighs and it has a better taste. Rinse breasts and cut into chunks.
Step 4: Frying Chicken
Pre-heat a heavy frying pan for frying. Get the breading from step 2 and make a egg wash (combine 1-2 eggs and a tiny bit of water and whisk until thoroughly mixed). Next dip chicken in egg wash mixture then in flour, fry immediately. Cook the chicken for 3-4 minutes or until golden brown, set on a paper towel to drain off the oil.
Once all the chicken is cooked get a wok!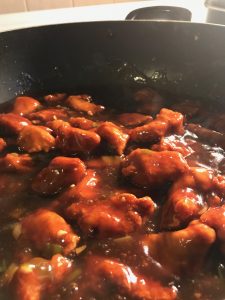 Step 5: Time to Tso
In your wok add 1 ½ tbsp vegetable oil, and add green onion to the wok. Cook the onion for a few seconds then add the sweet sauce to your wok, adjust your heat to high before adding sauce. Once the sauce is in the wok cook until it starts to bubble. Add chicken to sauce, at this point if the sauce is too thick add an additional ½ cup or 1 cup of water. Cook until sauce reaches the desired consistency.
Step 6: Plate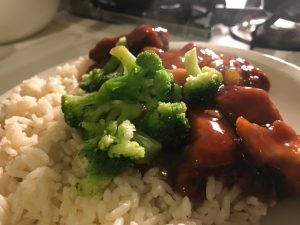 Make rice and broccoli to go with the chicken and sauce mixture. Place rice first then chicken, the broccoli goes on top.
Author: Alex Fernandez