Did Eagles Fans Take Their Celebration Too Far?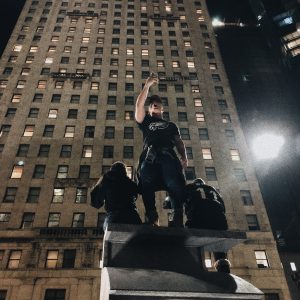 On February 4th, 2018 history was made for the city of Philadelphia. The Eagles won Super Bowl LII against the New England Patriots and the celebration was certainly felt throughout the city. But some are asking the question, did fans take the celebration too far?
Promptly after the win, fans took to the streets to show their excitement in extreme ways. From jumping off signs, hanging off traffic lights, running around naked, and flipping over cars, Philadelphia surely made history that night. But where do we draw the line between celebration and criminal behavior?
Many feel that the Eagles fans took their celebration too far but it is important to consider historical context when judging Philadelphia's behavior after the Super Bowl. This is not the first time sports fans have taken their celebrations to extreme levels. With that being said, why are Philadelphians under extreme scrutiny while other forms of celebratory vandalism go overlooked? Take, for example, the 2011 Vancouver Stanley Cup riot, where similar behavior broke out after the Boston Bruins' win over the Vancouver Canucks in game seven of the Stanley Cup Finals. 140 were injured, 4 were stabbed, 101 were arrested, and damages totaled $4.2 million.
Or what about the unforgettable LA Lakers riot of 2010 where fans took to the streets after the Los Angeles Lakers beat the Boston Celtics in the NBA finals. Local businesses were vandalized, cars were set on fire, and people were beaten. 50 were arrested and 10 were injured. Compared to these memorable riots, the Eagles' fans' celebrations seem more like a meager fête.
It is also important to remember that this is the first time the Philadelphia Eagles have taken home a victory from the Super Bowl, so it is not surprising that many fans were overjoyed. Although the behaviour of many should not be excused, the public should not condemn the entire city for something that was far from a riot but a city united in triumph.