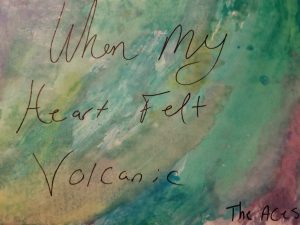 The Aces is an indie rock band from Utah, that consists of vocalist Cristal Ramirez, drummer Alisa Ramirez, lead guitarist Katie Henderson, and bassist McKenna Petty. Recently, they released their debut album "When My Heart Felt Volcanic," filled with perfect pop hits and creative lyrics. Listening to it feels like a rollercoaster from start to finish. The first song off the album is "Volcanic Love" and it has a whimsical 80's sound that got stuck in my head immediately.
My other two favorite songs are off the album are "Stuck" and "Stay".
"Stay" is about feeling stuck in a situation with no way out, however the fast tempo and quick guitar riff, along with the catchy chorus, "I'm stuck… with nowhere to go it cuts, babe, 'cause we're just taking it slow, it's overdue, make your move stuck with nowhere to go" make it a total hit, while "Stay" is an energetic, bubbly song with strong bass and synths. The chorus adds to it, "So don't let it go, speed it up or go slow, 'cause I already know you'll be breakin' my heart if you don't stay."
The album reminds me of Haim's debut album, "Days Are Gone" since they both have a summer sound and are driven by the guitar and bass. However, The Aces put their own twist by incorporating an 80's sound along with Ramirez's vocals. "Last One" has a 1975 instrumental sound, but with lyrics that contrast the album opener, "Volcanic Love."
The last two songs, "Hurricane" and "Waiting For You" are different from the rest of the songs since they are slower while the others are more fast paced. They are the end of the roller-coaster when you walk away. "Hurricane" is a ballad, in which we only hear Ramirez's vocals, piano, and strings. The song compares the evolution of a relationship turning bad, to it being a hurricane. "Waiting For You" is a more chill track with a slower tempo and repetitive lyrics, "I think you know what I want, I think you know, I'm waiting for you" the song is a perfect album closer.
I recommend you listen to "When My Heart Felt Volcanic," I know for sure that it has a spot in my top 5 favorite albums. It's fast guitar, strong bass, quick tempo, synths, and modern catchy lyrics are worth a listen. I give "When My Heart Felt Volcanic" a 5 out of 5 stars.