New Dress Code New Me
FLC's new dress code, which went into effect in early December, requires that students wear any official FLC shirt and their choice of bottom, with a few exceptions.  ¨Students may not wear: jeans with holes, midriffs/half shirts, hats (Ladies and gentlemen), doorags (sic), open toed shoes, nor slides, skirts above the knee, shorts that have inseam of less than 10 inches" according to the posters posted around school.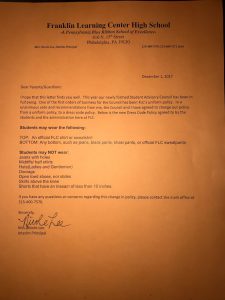 In prior years, FLC sparked controversy by charging students five dollars for coming to school out of uniform. The main reason the dress code changed was because of the students and what they wanted, says Dean of Students Colleen Krakauskas.  "Now that we have transitioned into a new administration, I think Mrs. Lee wants the students to have a voice."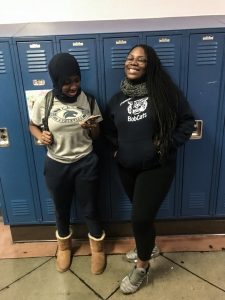 Ever since they began meeting this year, newly installed principal Nicole Lee has been taking suggestions from the Student Advisory Council, a group of students who meet regularly to represent the school.
Students are left wondering if this new policy will stick. According to Krakauskas, the five dollar "fees have been waived" and students will no longer be charged for coming to school out of uniform. However, there will still be consequences: "11th and 12th [graders] will lose their privileges such as prom. 9th and 10th will receive detention." The dress down days are also changing to "be called dress up days and will cost one dollar."
Junior Cierra Jenkins doesn't "Understand why [students] have to wear the school shirt if [they] can wear any bottom."  Sophomore Samira Thornton says "It's okay but students were already dressing how they pleased."
Further changes can be accommodated in the future but for now the students get to have it their way.